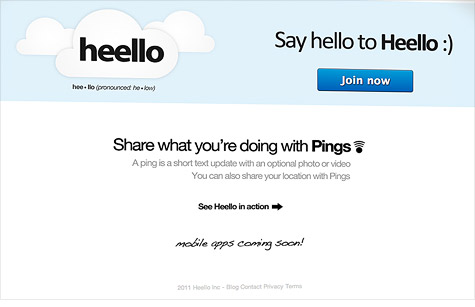 NEW YORK (CNNMoney) -- Twitter co-founder Jack Dorsey frequently blasts out "Hello" tweets to whatever city he happens to be in at the moment. A different type of "hello" hit the Web this week -- one that will look very familiar to Dorsey and Twitter's millions of users.
One day after Twitter launched a photo sharing service that directly competes with third-party photo sharing apps like yfrog and Twitpic, Twitpic founder Noah Everett turned the tables and unveiled Heello, a social network with an undeniable resemblance to Twitter.
The copycat site prompts users to share what they're doing with their followers via "pings" instead of tweets. Rather than retweeting their friends, users "echo" them, and instead of following a person, users "listen." And, of course, messages are limited to 140 characters.
Wicked parody or actual startup venture? In these bubbly times, who can tell?
Within hours of Heello's launch, techies raced to the site to stake out their early-adopter turf. Coveted handles like @MarkZuckerberg -- and the handles of Twitter founders @ev, @jack, and @biz -- went fast, often to satiric ends.
Even CNN's widely followed Twitter handle, @cnnbrk, was taken by a prankster, who blasted off a series of "breaking news" bulletins laced with tech-industry inside jokes. One from Wednesday afternoon -- "Breaking: Jack Dorsey rumored to be joining Heello as head of product/lead bicycle messenger. #300percenttime" -- took a swipe at the Twitter co-founder's recent return to guide the company's product development. (The hash tag is a play on Google's famous "20% time" policy -- and on Dorsey's insanely busy schedule.)
"If Twitter can compete with its developers without fair notice, then why can't we?" Everett said in an interview with VentureBeat about Heello.
It's been a bumpy road for Twitter's third-party developers, who have spent years building out basic functionality Twitter's own platform lacked. There's a "get bought or get squashed" ethos developing, as Twitter scoops up some outside apps to augment its own core features and internally develops others that compete with existing add-on tools.
Twitpic and yfrog have been the leading photo-sharing apps for Twitter users, but when news broke that the social network would develop its own built-in photo sharing tool, Everett says he was caught by surprise.
"We had no idea Twitter was building a photo feature. Communication between developers and Twitter has never been very clear, and the relationship between Twitter and its developers has changed a lot since the Chirp conference last year," Everett told CNNMoney in June. "A more clear feature roadmap and better communication would have been much appreciated by all their developers."
So is Heello for real? Everett is certainly playing it straight. He's had the domain registered since 2008.
"The original idea for Heello was based around e-mail," Everett told CNNMoney by e-mail. "The idea for Heello in its current form came around a year ago, but we didn't start building it until a couple of months ago."
He added: "We're currently building our mobile apps, which we know will be our biggest point of entry and usage."
Users aren't waiting around to find out whether or not the site is serious. They're signing on and pinging away.
"On one hand, it may be a parody. On the other hand, it could be a real business," said Greg Galant, a social media maven who snapped up the @gregory handle on Twitter but didn't move fast enough to get it on Heello. He had to settle for @galant.
"Even Twitter -- when it started, it seemed so ridiculous," he said. "The line between parody and real in the social networking world is so fudgy, you don't know where one stops and the other begins."
One thing is clear: If imitation is the sincerest form of flattery, Everett just returned Twitter's compliment.