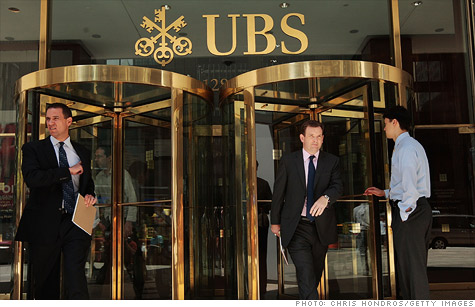 NEW YORK (CNNMoney) -- Swiss bank UBS said Tuesday that it is reducing its staff by 3,500 jobs, including some reductions in the United States, through a mixture of layoffs and "natural attrition."
"All markets will be affected, including Americas," said UBS spokeswoman Jenna Ward.
UBS (UBS) said that staff reductions will occur across different sectors of the business to save more than $2.5 billion through the end of 2013.
The largest plurality of the cuts, 45% of the total, will happen in the investment bank division, with 35% of the cuts occurring from wealth management and Swiss bank, 10% from global asset management and 10% from wealth management Americas.
The banking industry has announced 36,500 job cuts this year, including 3,500 from Bank of America (BAC, Fortune 500); 1,000 from Goldman Sachs (GS, Fortune 500); 2,000 from Credit Suisse (CS) and 25,000 from HSBC (HBC).
-- CNN's Katy Byron contributed to this story.