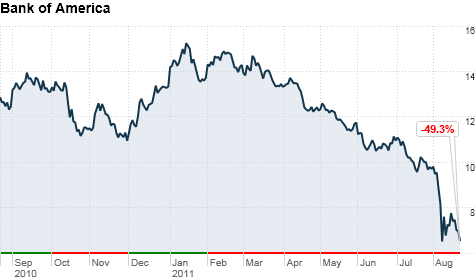 Click chart for more on BofA stock.
NEW YORK (CNNMoney) -- Bank of America shares fell within spitting distance of a new 52-week low Monday, fueled by investors' nervousness over the bank's balance sheet and its continued exposure to mortgage-related losses.
Bank of America's (BAC, Fortune 500) stock fell 7.9% to $6.42. The selling dragged down shares of other large banks, with JPMorgan Chase (JPM, Fortune 500) falling nearly 3%, and Citigroup's (C, Fortune 500) stock sliding 2.7%.
But Bank of America, the nation's largest bank, continues to outpace its peers in its downward spiral, with shares down 49% over the past year. Compare that with JPMorgan, which is off nearly 10%, and Citi, which shed 30%, over that same time frame.
"Bank of America is the poster child for risks associated with a downturn in the economy," says Marty Mosby, managing director at Guggenheim Partners. "The markets can't estimate the company's numbers directly so it perpetuates fear as anxiety in the market continues to boil."
Traders say that Bank of America has become the first stock to sell when investors are worried about the overall market.
Just two weeks ago, Bank of America's stock plunged 20% on a confluence of factors.
Adding further downward pressure to the company's shares Monday was news that a wide-ranging settlement over foreclosure practices between major banks and attorneys general in a large number of states had hit roadblocks.
If secured, this settlement could insulate Bank of America and other banks from further lawsuits related to securitization of mortgages during the economic crisis in 2008.
"There's so much anxiety around this stock that even little news items like this can move the stock dramatically," says Mosby.
Issues from Bank of America's mortgage business continue to eat into the company's profits. In the second quarter, Bank of America reported an $8.8 billion loss related to payments made to settle legal claims against its mortgage division.
The company agreed to pay $8.5 billion to 20 large investors who purchased troubled mortgages from the bank. This deal is still awaiting a judge's approval and would be the largest of the subprime mortgage crisis.
Traders also said that news reports that Bank of America would retain half of its 10% stake in China Construction Bank was hurting Bank of America's stock Monday. Analysts and traders had reportedly expected the bank to divest its entire stake in the Chinese bank.
"We don't comment on our shareholdings," said Bank of America spokesman Jerry Dubrowski, noting only that the bank has "a long-term strategic partnership" with China Construction and "looks forward to expanding" it.
Dubrowski also debunked rumors that Bank of America is seeking to raise capital through an equity offering. "We don't believe we need to raise capital through an equity offering to meet our business goals," he said. "We have been consistent in saying we are not considering an equity offering."
To stop some of the bleeding, Bank of America CEO Brian Moynihan announced earlier this month that he would cut at least 3,500 jobs at the bank and restructure the company.
Still, investors aren't so sure that will be enough.
In turn, they continue buy what are considered safer stocks in the financial services sector: smaller regional banks with minimal exposure to Europe. Shares of SunTrust Banks (STI, Fortune 500) and M&T Bank Corp. (MTB) both finished the day higher.