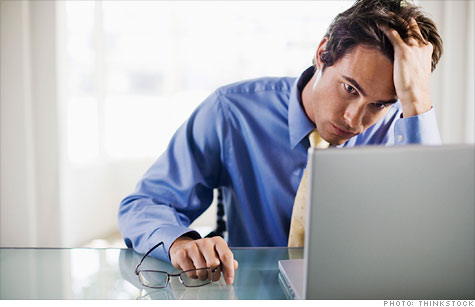 Holy crap! Someone used social media to trash your company. Social media monitoring tools can minimize the damage.
NEW YORK (CNNMoney) -- It wasn't until a man diagnosed with measles ate at her New Jersey diner that Connie Correia Fisher, co-owner of The Pop Shop, discovered that the only thing that spreads faster than an infectious disease is bad news.
"We had every major TV station here. All the papers were here, and people were freaking out," said Fisher, who co-owns The Pop Shop with husband and professional actor Stink Fisher. But that's not all. Within no time, parents and restaurant regulars alike had taken to the Internet, voicing their health concerns on public platforms like Twitter and Facebook.
But while Fisher couldn't stop the television crews from hanging outside her six-year-old restaurant, she was able to "constantly beat back down" the fear-mongering flooding social media channels, thereby saving her company "thousands of dollars" in lost business. That's because Fisher subscribes to Sprout Social, a social media monitoring tool that, for $50 a month, helps her keep tabs on every single online conversation mentioning The Pop Shop.
Welcome to the world of social media where 140 characters can cause irreparable damage to your company's reputation -- and bottom line -- in seconds flat. Blogs, Facebook, Twitter, LinkedIn -- each one is a digital grapevine, letting consumers air their grievances to millions with the single click of a mouse.
When someone posted a video on YouTube of rats running around a New York City Taco Bell restaurant in February of 2007, the video spread across the web like wildfire, causing Taco Bell's (YUM, Fortune 500) stock price and sales to drop, and prompting duplicate videos with more than two million views to date.
And then there was the catastrophic BP oil spill in early 2010. Despite thousands of tweets from angry citizens being published within hours of the Gulf of Mexico disaster, it took the oil giant seven days to issue a Twitter response.
Despite these social networking snafus, multinational corporations can more easily rebound from an onslaught of unflattering tweets and derisive Facebook updates than a resource-strapped small business.
"Large enterprises spend a lot of money on public relations so they can throw an entire army at the problem," said Tim Hickernell, an analyst with Info-Tech Research Group. "But a small business owner doesn't have that army. He has to take the time to manage his company's reputation."
No wonder then that a growing number of small businesses like The Pop Shop are turning to social media tracking technologies such as those offered by Sprout Social, Radian6 (recently acquired by Salesforce.com (CRM)), HootSuite, Twitter Advanced Search, and Sysomos.
These modern-day eavesdropping tools scour the conversations taking place on social networks for relevant comments -- and damning criticism, enabling companies to respond in real-time to online opinions. In fact, according to a Forrester survey, of the 301 customer intelligence professionals canvassed, 78 percent responded that they actively monitor what customers are saying online.
Take, Blue Sky Factory, for example. When a customer tweeted a complaint to his 50,000 followers about the Baltimore company's customer service, Radian6 immediately caught the criticism and alerted Blue Sky Factory's 23-person agency via email. Within minutes, a Blue Sky Factory customer service representative responded directly to the tweet with a very public apology. It was a critical intercept given that 22 percent of Blue Sky Factory's business hails from social media channels. In fact, the company sees close to 1,000 mentions a month.
Stephan Howard wasn't so lucky. Instead of using a social media monitoring tool, Howard, the owner of Flik and Company, a Toronto interior design firm, learned from customers that his business was being trashed in a local community blog. 'Have you been 'Flick'd' Over?' read the thread initiated by a disgruntled Flik customer, who claims Flik failed to make good on a down payment for furniture until he took his ordeal to the blogosphere. (Howard denies the allegations).
In no time, the blog became ablaze with name-calling, finger-pointing and commentary from scores of customers. That is, until Howard contacted the local police department, which ordered the blog's administrator to terminate the thread.
"It really did get ugly," said Howard, who has since moved out of the neighborhood and relaunched his store under the banner Flik by Design. "I was bothered a lot by what happened, I was sick to my stomach, and there were nights when I didn't sleep."
Social media monitoring products can help. However, selecting the right one for your business requires sifting through "hundreds of tools from free services to million-dollar-plus technologies," said Zach Hofer-Shall, a Forrester Research analyst. These products range from Web-based dashboards that aggregate social media data to sophisticated analytics tools that mine data and generate custom reports.
For cash-strapped small businesses, free tools such as Google Alerts and Twitter Advanced Search let users conduct keyword searches for the names of their companies and competitors, but have "very limited functionality," warned Hofer-Shall.
That suits Parties That Cook just fine. The San Francisco corporate team-building and cooking class company relies on Google Alerts to flag mentions on user review sites like Yelp. "In a small company with limited resources, it just doesn't make sense to spend the extra money or extra time [on a costly social media monitoring tool]," said Crissy Gershey, Parties That Cook's marketing director.
Nevertheless, the $5.99 a month it costs for HootSuite's basic analytics solution, or $500 a month for Sysomos' more robust Heartbeat solution, can be a worthwhile investment. By upgrading from Google Alerts to Radian6, DJ Waldow, Blue Sky Factory's director of community, said he spends nearly three times less sifting through company mentions, and no longer worries about angry tweets or Facebook comments "slipping through the cracks."