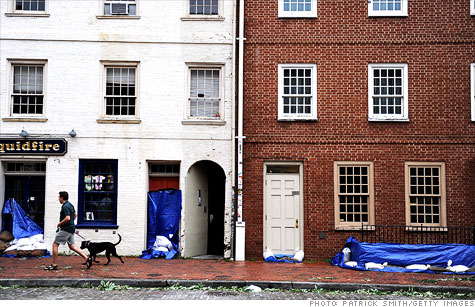 Hurricane Irene left a swath of destruction in its wake, leaving Main Street businesses devastated. Some small businesses actually stand to make a buck on the cleanup.
NEW YORK (CNNMoney) -- Mother Nature doesn't play favorites.
As Hurricane Irene barrelled up the Eastern seaboard, some small businesses were spared, while others were devastated.
The Small Business Administration is just beginning to assess the hit to small businesses. But estimates for overall damage caused by Irene is up to $10 billion.
Wrong place, wrong time: When your house has just been flooded, redoing the flower beds is not exactly a priority. Gina Samarotto's fledgling landscape design business has a tough row to hoe thanks to Hurricane Irene.
Samarotto plans to offer some of her clients free post-hurricane cleanup services, because she doesn't want to take advantage of people during hard times, even though that means less revenue for her company. Because outdoor landscapes are not covered by most people's insurance, "we are trying to absorb what we can," said Samarotto.
Samarotto Design Group, which designs, installs and maintains landscaped property for homeowners, is only five months old.
"We simply don't have the resources or the reserves to weather something this dramatic," said Samarotto, the owner of Samarotto Design Group in Poughkeepsie, N.Y., of the natural disaster.
Samarotto expects to lose business, particularly from clients who have suffered damage from the storm. "Whenever something rocks their world like that, the first thing to go is discretionary spending," she said. And landscaping work falls under that category, she added.
Another problem caused by the storm is the water-saturated ground, which makes landscaping almost impossible to do.
Irene also arrived at a bad time for the seasonal business. As the weather gets colder, fewer people will need landscaping services.
Overall, "from a business point of view, it is going to be pretty financially devastating," she said.
More mosquitoes, more business: Michael Ritchie, the owner of Mosquito Squad of the Crystal Coast in Swansboro, N. C., expects to see an uptick in business.
Mosquitoes breed in water. "There is going to be more standing water around the six counties that I cover that will give the mosquitoes more" places to breed, said Ritchie.
Mosquito Squad, an exterminator business, is an independently owned franchise of the national brand, Mosquito Squad. Ritchie -- who works with one or two part-time employees -- uses three different treatments on his clients' properties and can reduce mosquitoes by 85% to 90% for up to three weeks.
"I would say within the next seven to 14 days, I should see an increase in phone traffic to my business, based on what happened last year when Tropical Depression Ophelia came in," said Ritchie. Tropical storm Ophelia battered the East coast in 2005. Business picked up between 20% and 25% after Ophelia, he said.
Open for business: Many small businesses in Vermont suffered from flooding after Irene passed through. But Renaissance Fine Jewelry on Main Street in Brattleboro, Vt., didn't have such problems, so it was open for business Monday.
"Everything is normal," said Wendy Lillie, co-owner of the jewelry store. "The store has several people in here shopping."
Other businesses were suffering. Lillie knew of fellow business owners who were dealing with flooding. "But we are up on high ground here," she said.
Had to evacuate: Steve's Authentic Key Lime Pie lost three days' worth of business. But otherwise, "we are doing fine," said Samantha Citrin, manager of the small bakery. "We actually prepared for a bigger storm, because we are right here on the water."
The Brooklyn bakery had to close its doors Saturday and Sunday, because it is was located in a part of New York City that was required to evacuate.
Although it is near the ocean, the Red Hook bakery came away unscathed. "There are a few streets that got flooded," said Citrin. "But we were pretty lucky."
The bakery plans to reopen Tuesday.