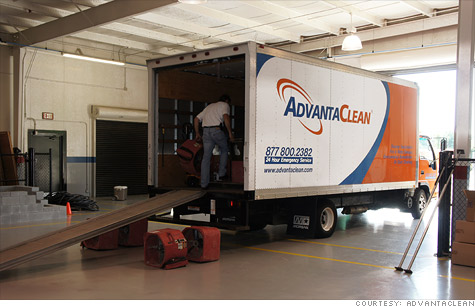 AdvantaClean crews get ready for the arrival of Hurricane Irene. If the storm hits hard, the business could see a couple million dollars worth of business.
NEW YORK (CNNMoney) -- While some business owners are fretting over the damage Hurricane Irene could cause, others are gearing up for business opportunities.
Depending on the severity of the storm, AdvantaClean, a North Carolina disaster cleanup company, could see a couple million dollars worth of business in the storm's aftermath.
"Certainly, our industry does see an increase in demand during these times," said Jeff Dudan, CEO and founder of AdvantaClean, headquartered in Huntersville, N.C. "Typically our volume will go up both at home, and we can get some incremental volume and revenues in those areas if we are called in to respond."
In addition to being AdvantaClean's founder, Dudan owns one of the franchises and has 13 full-time employees and 26 contractors. The company provides cleanup services including air duct cleaning, mold removal, and emergency services from water or fire damages, which means responding to disasters.
The 17-year-old company's bottom line got a big boost after Hurricane Katrina hit in 2005. Dudan's team responded in Gulfport and Biloxi, Miss., and in the French Quarter of New Orleans. In the immediate emergency response period, Dudan said his company did a couple million dollars worth of work after the storm. And AdvantaClean made more money working large projects in the region for another four years.
The company has been preparing for Hurricane Irene. "We have checked all of our vehicles and made sure that they are fueled," said Dudan. "We ended up pulling the trigger on several sets of new tires." In addition, the team has reviewed its emergency response plan.
Still, they are not rushing in. "Personally, we just don't go running off immediately if it looks like a hurricane may or may not hit," said Dudan. "It is really difficult to predict whether there will be any real damage."
Let them eat cake: Whether Irene lands with a whomp or a whimper, at least one company is prepared to make a buck.
Cakes for Occasions, a gourmet bakery in Danvers, Mass., is running a competition on its Facebook page, asking fans to predict what category the National Weather Department will call the storm on Monday. One person who guesses correctly will be randomly selected and get a coupon for 20 percent off.
Also Cakes for Occasions is giving away free "Hurri-cakes": two-inch chocolate mousse cakes, glazed with chocolate and decorated with the national hurricane symbol and the name of the storm, Irene.
The idea behind the promotion is that customers can't come into a bakery without being tempted by the smells, said owner Kelly Delaney. In addition to its single storefront, the bakery has a website, Cakes4Occasions.com.
"It always generates some additional sales," said Delaney, who has run freebie promotions on Facebook before. "You will have a handful of people that will come in for just one, but that is just life." Delaney has made 210 Hurri-cakes and estimates she will give away 40. Then she hopes to sell the rest, which retail for $1.95 each.
A banner year: It has already been a good year financially for Howard Altschule, who owns Forensic Weather Consultants, a company that provides weather damage reports. Altschule saw more business after last year's blizzards. And if Irene lives up to expectations, 2011 could turn out to be a banner year for his company.
"I have already seen a 50% increase in revenues this year, without the hurricane," said Altschule. "It could end up being a 100% revenue jump this year. It all depends on what exactly happens and to what extent."
Altschule, a certified meteorologist who analyzes weather conditions, provides expertise to insurance companies, law firms, engineers and other companies.
Altschule said he would not be surprised to see a billion dollars worth of damage from Hurricane Irene, between the damage and the loss of revenue. He expects to be "immensely busy."
Surf's up: There won't be throngs of beachgoers this weekend, but some diehard surfers are expected to catch the waves.
"This is something that surfers wait for, the waves that hurricanes bring," said Johannah Sena, the manager of the family-operated Rockaway Beach Surf Shop in New York. "You have to have a board that is a more high-performing board."
Still, most expert surfers -- the ones most likely to try surfing during a hurricane -- already have the gear necessary to ride those enormous waves.
So she doesn't expect to be selling out of boards.
But, "we will be selling a lot of wax, that is for sure," said Sena, explaining that surfers use wax to add traction to their boards. Otherwise, the storm won't be good business for the Rockaway Beach Surf Shop. "Nobody is going to the beach to buy a bathing suit, towels, that kind of stuff," she said.