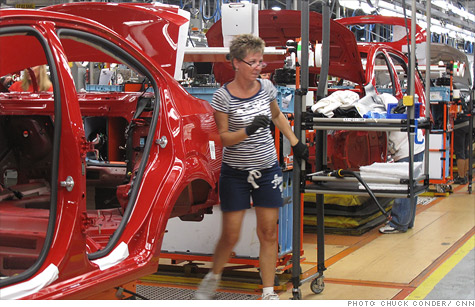 UAW members at GM and Chrysler remained on the job Thursday even though union and management failed to reach agreement on a new deal by the Wednesday night deadline.
NEW YORK (CNNMoney) -- The United Auto Workers union and the nation's major automakers failed to reach a deal on a new contract on deadline, although workers remain on the job Thursday while negotiations continue.
The failure to reach a deal by the 11:59 p.m. ET Wednesday expiration of the old pacts left Chrysler Group CEO Sergio Marchionne angry with the union. He flew to Detroit from the Frankfurt Auto Show early Wednesday in the hopes of reaching a new deal, only to find UAW President Bob King tied up in talks with General Motors (GM, Fortune 500) and unable to meet with him.
"You and I met last weekend and agreed that we had to get this new contract agreed and signed by today," Marchionne wrote to King in a letter about 10 p.m. ET Wednesday. He said he had flown in because both of them needed to be there to conclude the talks only to find "You, unfortunately could not be here, I am told, due to competing engagements."
Marchionne said the lack of an agreement by the deadline meant that "You and I failed" the employees at Chrysler. "I know that we are the smallest of the three automakers here in Detroit, but that does not make us less relevent."
Marchionne, who is also CEO of Italian automaker Fiat, which owns a majority of Chrysler, said in his letter that he had to leave the country and would not return to Detroit until next week.
Still, despite Marchionne's public display of anger, the lack of deal is likely not a major blow to hopes of the traditional Big Three to reach new labor deals that allow them to keep making money, even with auto sales still soft by historic standards. The three pacts cover about 112,500 UAW members, who will continue to work under indefinite extensions of the pacts.
The UAW had already granted an extension to Ford Motor (F, Fortune 500) Tuesday evening as it focused on talks with GM and Chrysler. And with King meeting with GM officials at their headquarters Wednesday, it was clear that the union was intending to have the nation's largest automaker set the pattern that the other two automakers would follow in their deals.
But just after 1 a.m. ET Thursday, GM sent out notice to the media that it also had an extension, and that talks would break and would resume at 10 a.m.
"GM and the UAW agreed to extend discussions beyond September 14 as they work to craft an agreement that meets the needs of employees and the company," said the GM statement.
Under terms of deals struck during the bankruptcies at GM and Chrysler two years ago, the union is essentially barred from striking either of those automakers at the conclusion of these negotiations. They can turn to a binding arbitration process if an impasse is reached in talks, but such a process is likely well into the future despite the failure to reach a new deal Wednesday.
Workers are allowed to strike Ford Motor, the only U.S. automaker to avoid bankruptcy and a federal bailout two years ago. But the union has shown little inclination to strike this time, unlike four years ago when members walked out in brief strikes against GM and Chrysler.
The union's key goal in this contract is at least a modest raise of $1 or $2 an hour for the recent hires, who are now paid in the range of $14 and $17. That compares to the $28 and $38 an hour veteran UAW members can earn at the Big Three, depending upon seniority and job classification. The union also wants guarantees of cars being built at U.S. plants rather than nonunion factories in Mexico or overseas.
The company wants the unions to agree to have a greater percentage of wages tied to performance, such as profitability, productivity and product quality, in order to avoid the large fixed costs that forced years of widespread losses even when U.S. sales were much stronger.
The three automakers all made money on an operating basis for the first half of this year, the first time that has happened since 2004. And while analysts and experts are expecting their costs to rise in any new deal, they are generally hopeful their profitability will continue under the new labor agreements.