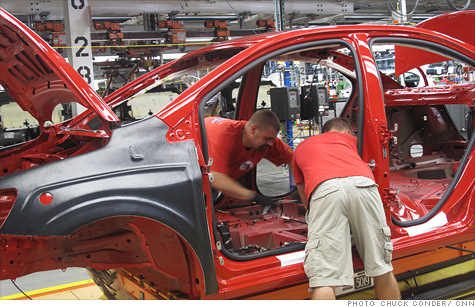 Workers at the GM plant in Lake Orion, Mich, where the union agreed to a new lower-tier wage package to get laid-off workers back to work.
NEW YORK (CNNMoney) -- The United Auto Workers union and the Big Three automakers are at the bargaining table this week, trying to write the final chapter in Detroit's turnaround.
The current labor contracts that cover about 112,500 workers at General Motors (GM, Fortune 500) and Chrysler Group are set to expire at 11:59 p.m. Wednesday night. The union agreed Tuesday night to indefinitely extend the contract with Ford Motor (F, Fortune 500), which had been set to expire at the same time. The union and Ford will resume talks once deals are struck with the other two automakers.
The union appears to be focused on talks with GM and it's possible that it will have a deal with the automaker, as well as with Chrysler, by the deadline, according to one union official familiar with talks.
UAW President Bob King was in talks at GM early Wednesday. Negotiators for the union and the nation's largest automaker worked till a bit before midnight Tuesday and were back at the table about 9 a.m. said GM spokeswoman Kim Carpenter.
"We're continuing to make progress and are working on the details," said Carpenter.

The main debate is about the two-tier wage system that was put in place four years ago to cut the automakers' costs -- an unsuccessful attempt to save them from bankruptcy.

The union wants a modest wage increase for the new second-tier workers who earn roughly half the pay, and much weaker benefits, than the veteran workers.
But that could prove costly for the automakers. The two tier-system that allowed lower wages for new workers kept hourly labor costs down, making the U.S. carmakers more competitive with overseas rivals like Toyota Motor (TM) and Honda Motor (HMC).
The second tier pays new workers between $14 and $17 an hour and cuts out many of the pension and retiree health care benefits enjoyed by more seasoned workers. Those long-time employees can fetch between $28 and $38 an hour, depending upon seniority and job classification.

The new agreements will be the first since the 2009 bankruptcies at GM and Chrysler forced the unions to rewrite earlier pacts. Investors and industry experts are eager to see what kind of deal will emerge, and whether it will allow the automakers to continue to make money. Most observers say a raise of about $2 an hour for second-tier workers is possible in the new deal.

Despite the industry's rocky labor history that included brief strikes at GM and Chrysler in 2007, hopes are high for amicable negotiations this time around.
"No talks are easy. But these will be a little bit different," said Art Schwartz, former general director of labor relations at GM who now runs consulting firm Labor and Economics Associates, in Ann Arbor, Mich. "After the bailouts and the near-death experiences at GM and Chrysler, the parties are getting along pretty well right now. I think the union leadership understands the companies have to have a competitive deal."
Experts think the new deals will be more expensive for the automakers by giving into those pay demands. But they don't believe the increased costs will be so great as to return the automakers to the huge losses that forced them into bankruptcy a few years back.
"We'd be foolhardy to say no cost increase would come out of it," said Peter Bible, former chief accounting officer at GM, now a partner at accounting firm EisenrAmper. "But the world has changed. People's views are different about what's fair and unfair have changed."
The union and the companies are limited in what they can say publicly, but it's been clear for weeks that the union was concentrating on talks with GM and Chrysler ahead of the deadline.
The two companies won a provision in the labor deals reached during their bankruptcies that essentially prevents a strike this time around, establishing binding arbitration to settle any deadlocked issues. But even if a deal isn't reached by the Wednesday deadline, it's believed that an extension, not arbitration, will be the next step.
"I don't think anyone, including the union, is looking toward arbitration," said Chrysler spokeswoman Jodi Tinson.
Ford is the only company that avoided a bankruptcy and is the only one where the union is free to strike. But no one was expecting a strike there even before Tuesday's formal extension.
"We are committed to working together to reach an agreement that is fair for our employees and allows Ford to become more competitive," said Marcey Evans, spokeswoman for Ford.
Ford paid its workers $5,000 profit sharing bonuses for 2010, significantly more than was required by the the contract. Evans said Ford decided the higher payments "better reflected the contribution hourly workers made to Ford's performance in 2010."
Kristin Dziczek, director of the labor and industry group at the Center for Automotive Research, said Ford realizes it could have an uphill fight winning approval for a deal, given its financial success in recent years. Ford workers rejected earlier contract changes that GM and Chrysler won from their workers during the 2009 bankruptcies.
"Ford has got to get something a smidge better than the others," she said. "A tentative agreement that doesn't ratify is not a contract."
All three automakers have made it clear they want to have performance bonuses based on profits, productivity and vehicle quality be a bigger part of the pay package in this deal, and union leadership has signaled they're willing to consider such a change.
The union is seeking more guarantees from the automakers to build future models at its U.S. plants rather than at lower-cost non-union plants they operate in growing markets overseas.