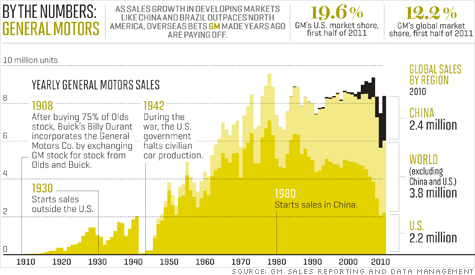 FORTUNE -- The Obama administration's automotive task force did two favors for General Motors: It stripped away 100 years of accumulated obligations through bankruptcy, and it turned the company's management over to a team of Detroit outsiders who view the business with fresh eyes. Headed by chairman and CEO Dan Akerson, the new team has led GM to post solid financial results, gain market share, and strengthen its position in China. The company earned $5.4 billion in the first half of 2011, more than double 2010's $2.2 billion, and regained its title as the world's largest automaker. But to make the gains permanent, GM needs to stamp out a plodding, risk-averse, belt-and-suspenders culture and become opportunistic, flexible, and fast on its feet. That's not easy for this company. Following it for 34 years, I've watched many well-intended efforts to shake things up expire once they hit middle management. Like any bureaucracy, GM's vast army of white-collar workers (26,000 in 120 countries in 2010) stubbornly resists change. A former CEO referred to them as GM's "frozen middle."
Detroit doesn't take kindly to outsiders. Keith Crain, the influential publisher of Automotive News, who is usually a steadfast supporter of the local companies, all but accused the new GM team of being carpetbaggers, complaining they were taking credit for "work that was done long ago." Local pride aside, a widely asked question around Detroit is, "Does GM have a new balance sheet but the same old culture?" So let's see how successful Akerson & Co. have been in remodeling GM (GM, Fortune 500).
Changes at the top
On the 39th floor at GM's corporate headquarters, Akerson is making a big commitment to change. No fewer than six of his 14 direct reports have been with the company less than 24 months. He has expanded his executive committee to include more diverse views and expertise by adding design boss Ed Welburn and manufacturing leader Diana Tremblay.
Akerson, a teetotaler, rises between 4 and 4:30 a.m. to work out and attacks the rest of the day with equal intensity. He's a graduate of Annapolis who likes to say he has a mission, not a job, and seasons his speech with words like "leadership" and "duty."
Akerson's chief lieutenant, adviser, and troubleshooter is Steve Girsky. Girsky joined the GM board in 2009 as a representative of the United Auto Workers; Ed Whitacre, Akerson's predecessor, promoted him to vice chairman. A former securities analyst who critiqued GM from the outside for 20 years, Girsky, 49, has the enviable, if daunting, opportunity to put his ideas to work from the inside. He presides over vast swaths of GM, including corporate and product strategy, product planning, and purchasing.
Chief financial officer Dan Ammann, 39, joined GM as treasurer a year ago after 15 years as an investment banker at Morgan Stanley (MS, Fortune 500), where he worked with Girsky. The first GM CFO to wear a Vandyke and sideburns, Ammann took up the job in April after the abrupt departure of his predecessor. Ammann, a native of New Zealand, vows to end what he calls "analysis paralysis" and has declared war on complexity -- too many powertrains, too many trim levels, too many models -- that saps earnings. With GM's breakeven point at historically low levels, he believes the company is ready for significant growth. "For the first time in five or 10 years, the company is no longer in crisis mode," he says. "Now we can focus on revenue."
Akerson, Girsky, and Ammann all started out as commuter executives, staying in the same downtown hotel during the workweek. That made some old-timers resentful. Since buying a center-city condo, Akerson and his wife now are spending weekends in Detroit, and he is getting involved with local charities.
Grade: A-
Cleaning out the cobwebs
Akerson has a keen eye for the weak points in the old GM and is focused on rooting them out. "Whenever somebody tells me, 'This is the GM way,' I pay attention," he says. "Ninety percent of the GM way is great, and 10% should be totaled." He is known for asking hard questions, such as why GM needs 18 different engines for four car brands, or why $10,000 in cost savings can't be found in the $40,000 Chevy Volt. "Dan takes people out of their comfort zone," says one executive.
So does Girsky, as the 100-plus members of the Global Market and Industry Analysis Group found out. Pre-bankruptcy, they used to collect data from automotive markets around the world, analyze it, and assemble it into large PowerPoint decks that circulated every month to 150 recipients. Suspecting that nobody read them, Girsky ordered the report suspended for a month. When only a handful of complaints came in, Girsky discontinued the report.
GM's old matrix system of management is gone. With its overlapping functional and geographical assignments, it diffused responsibility. "We didn't need 200 people on a call every morning," says Girsky.
Grade: B
Nourishing new ideas
Fresh thinking is seeping into GM from different places. Global marketing boss Joel Ewanick was given the name of a decorator and an allowance of $50,000 to furnish his office. Instead, he went shopping at IKEA, Crate & Barrel, and Target (TGT, Fortune 500), and saved $48,000. Ewanick and design boss Welburn sometimes start their workday over coffee at a nearby Starbucks (SBUX, Fortune 500) -- a cross-functional conversation that would happen much more readily in the new GM -- where they share design ideas.
Welburn, a 39-year GM vet, seems a lot freer to run his own shop without interference from the top. On my last trip to Detroit, he took me to some parts of his design empire where I hadn't been before. He swiped his passkey to let me into the building housing Advanced Design, which looks at product trends out to the year 2020. No visitor pass was issued, though, for the skunkworks facility known as Studio X, whose exact location he keeps secret even from top executives. It is currently occupied by a team of designers sculpting the all-new 2014 Corvette. "In the old GM, we spent half our time developing presentations, and changes were made very late in the process," Welburn said. "Now decisions stick, and designers know they are going to stick."
Grade: B
Making GM likeable
Unlike other car companies, GM has always lacked an appealing public face like Bill Ford or Lee Iacocca. Akerson is trying to remedy that. I have interviewed eight of GM's last nine CEOs, but Akerson was the first to invite me to dinner, and the first to follow up with an hour-long meeting in his office the next day. He's also the only one to have a framed Fortune cover in his office. From the Aug. 22, 1983, issue, it shows four GM sedans that represent four different brands, yet are indistinguishable from one another. The headline reads, WILL SUCCESS SPOIL GENERAL MOTORS?
But public relations doesn't come naturally to the CEO, and he's found it tough going. He created a stir earlier this year when he offhandedly referred to Toyota's (TM) Prius as a "geekmobile" and again when he dissed Ford's efforts to rebuild Lincoln by saying, "You might as well sprinkle holy water. It's over."
Akerson gets support from local legend Bob Lutz, who praises his "forceful personality" while noting it may be "counterproductive and irritating." But Akerson does himself no favors with remarks like the one he made recently in discussing his past as a private equity investor with the Carlyle Group. Asked by the Detroit News about a report that he gave up $100 million by leaving his partnership to run GM, Akerson bluntly replied, "More than that."
Grade: C
Untangling red tape
GM has promised to shake off its old ways many times before, but complacency, insularity, and bureaucracy were rooted so deeply that they finally led to the automaker's collapse. Nothing has suffered more than new-model development, where GM has long allowed internal requirements to trump customer demands. The legendary example is the GM ashtray that was designed to be operated at 40° below zero but was impossible to open at normal temperatures. GM would stop and restart vehicle-development programs at a cost of $1 billion a year. In the months leading up to bankruptcy, GM changed its new-model introduction schedule every month. The Chevy Traverse and its sister vehicles were delayed for a year and a half during the financial crisis.
To put some rigor back in the product-development system, Akerson moved aside a longtime executive and installed Mary Barra, 49, an electrical engineer with an MBA, who has 31 years with the company. Barra's appointment was controversial -- the previous occupant of the job had loyal supporters, and she came out of human resources -- but she understands Akerson's push for speed and urgency. Within her first eight weeks, she ripped out a layer of management so she could get closer to decisions about new models.
Akerson has also inserted himself into the product-development process, to the dismay of GM's more tradition-oriented engineers. He has pushed hard to boost volume of the Volt by expanding production, reducing unit costs, and lowering retail prices. He moved up the launch of the redesigned 2013 Chevy Malibu by six months and made sure that its most fuel-efficient model came first to market. And he has questioned the need for high-horsepower V-8 engines. Early on, when oil was selling for $75 a barrel, Akerson asked what GM planned to do if it reached $120. Some of the old guard rolled their eyes. After oil touched $115, they started to pay attention.
The first Akerson-era cars won't be out until the 2014 model year, but so far all the moves seem like smart ones.
Grade: B
Making cars and trucks that people actually want to buy
Old GM had two problems: The cars it made mostly weren't very good, and it couldn't make money on them. Working to change that equation is one of the few insiders around Akerson: Mark Reuss (pronounced "Royce"), who runs GM's North American operations. An engineer who spends hours on the test track, he's the son of a former GM president, and Akerson calls him the "heart and soul of GM." Reuss, 47, knows where all the bodies are buried. "I can remember a long discussion about a 40¢ hydraulic bushing," he says. "That's got to change."
Reuss intends to spend one-third of his time working on product development and design -- more than his predecessors -- while overseeing manufacturing, sales, and marketing. Reuss has been under fire for overspending on incentives and, more recently, for letting inventories bulge. GM picked up a little U.S. market share in the first six months of 2011, growing from 19.2% to 19.9%. The Malibu and Cruze are two of the U.S.'s bestselling cars, and the soon-to-launch Chevy Sonic should give it another strong high-mileage entry.
There is plenty of work for Reuss to do. When Strategic Vision, a brand analysis company in San Diego, announced winners of its 2011 Total Quality Index in July, Ford claimed victories in five product segments and Chrysler two, but not a single GM vehicle finished first in its segment. GM remains dependent on trucks and SUVs for a big chunk of its U.S. profits, has been slow to develop profitable alternatives to the traditional internal combustion engine, and faces a shortage of high-margin new models for the next 12 months. If Reuss can hang on to market share without heavy spending on incentives, he'll solidify his standing as a future CEO candidate.
Grade: Incomplete
GM and Akerson face some delicate issues going forward because they will be negotiating with their own shareholders. GM recently discussed future fuel-economy standards with a federal government whose Treasury department still owns 32.4% of the company. This fall GM also will be bargaining over a new contract with the United Auto Workers, whose health care trust owns 12.8% of the company. Akerson and Girsky meet regularly with UAW president Bob King, but the union's active members will be looking to roll back the two-tier wage system it agreed to in 2009, and to win a seat on GM's board.
The talent, resources, brands, and heritage needed to make GM a contender again are all in place. What Akerson & Co. must do is persuade the other 25,990 or so salaried personnel to go along for the ride. Whether they can do so will largely determine whether GM returns to the honor roll of large industrial companies -- or just squeaks by with a passing grade.
This article is from the September 5, 2011 issue of Fortune.
For a deeper dive on GM and every company in the Fortune 500, try our new Fortune 500+ web app. To get started, go to fortune.com/500plus.