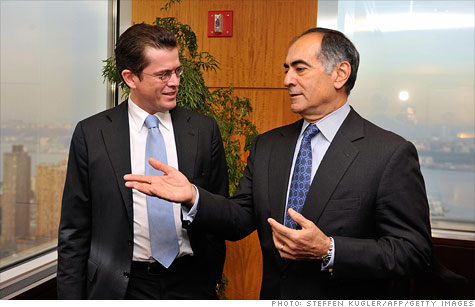 John Mack, right, shown here during a 2009 meeting in New York with German Economy Minister Karl-Theodor zu Guttenberg, will step down as chairman of Morgan Stanley.
NEW YORK (CNNMoney) -- Morgan Stanley announced Thursday that John Mack will step down as chairman at the end of the year.
Mack will retire from his full-time position at Morgan Stanley (MS, Fortune 500) and become a senior adviser, the company said.
Chief Executive James Gorman was elected by the board to take over as chairman on Jan. 1.
"Working with the remarkable people of Morgan Stanley has enriched my life for more than three decades, and helping to lead this great firm, most recently as chairman, was the greatest honor of my career," Mack said in a statement.
"However, I made clear back in 2009 that I would serve in the chairman role for two years and then move on," he said. "Now that time has come."
Mack praised his colleagues for "carrying our company and our clients through the most challenging market conditions of our lifetime."
He was referring to Morgan Stanley's ability to weather the recent financial crisis, which hit banks like Goldman Sachs (GS, Fortune 500), Citibank (C, Fortune 500), Bank of America (BAC, Fortune 500) and JPMorgan Chase (JPM, Fortune 500), to name a few.
"One of the things John is really proud of is he has pulled off a seamless transition on Wall Street," said someone close to the situation.
That person also said Mack is working on a book about leadership and his career on Wall Street that will be published in September, 2012.