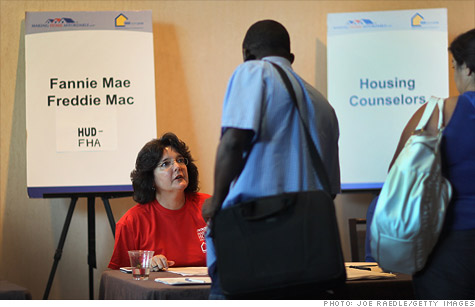 The federal government is suing major Wall Street banks and financial firms over mortgage investments.
NEW YORK (CNNMoney) -- The federal agency overseeing Fannie Mae and Freddie Mac filed lawsuits Friday against 17 financial institutions, in an attempt to recover billions of dollars in losses from risky mortgage investments.
The lawsuits were filed against many of the nation's largest Wall Street and financial firms, including Bank of America (BAC, Fortune 500), Citigroup (C, Fortune 500), Goldman Sachs (GS, Fortune 500) and JPMorgan Chase (JPM, Fortune 500). (See full list at end of story.)
In the complaints, the Federal Housing Finance Agency contends the institutions misrepresented the quality of the investments' underlying loans.
"Based on our review, FHFA alleges that the loans had different and more risky characteristics than the descriptions contained in the marketing and sales materials," the agency said in a press release.
The misrepresentations included significantly overstating borrowers' ability to repay their mortgages, the number of loans on owner-occupied properties, and amount of debt on those homes relative to their values.
Fannie Mae and Freddie Mac bought more than $196 billion of these residential mortgage-backed securities from the named financial institutions in the middle of the last decade, according to the suits.
These bundles of home loans were hot investments during the housing boom, helping fuel the proliferation of mortgage lending and run up in home prices. But when the market crashed and homeowners defaulted in droves, the securities plummeted in value.
Fannie Mae and Freddie Mac, which were among the biggest purchasers of these securities, also got caught in the downdraft.
Bank of America countered that Fannie Mae and Freddie Mac said they understood the risks of investing in subprime securities. And Bank of America said that the companies continued to add to their holdings, even after their regulator told them they didn't have the needed risk management.
"Despite this, the [companies] are now seeking to hold other market participants responsible for their losses," Bank of America said in a statement.
Citigroup, Goldman Sachs and JPMorgan Chase declined to comment. Other financial institutions could not immediately be reached for comment.
Fannie Mae and Freddie Mac, which were taken into conservatorship by the federal government during the 2008 financial crisis, are the largest sources of funding for the U.S. housing market.
They buy mortgages from lenders and either hold them on their books or bundle them into securities. The companies also have bought mortgage-backed securities issued by other institutions.
FHFA, which says it is charged with protecting the mortgage finance companies' assets on behalf of taxpayers, is seeking damages and penalties. The exact extent of the damages will be determined in court, according to the lawsuits.
The legal action could be "a very big deal," because it casts doubts on the quality of the mortgage securities sold to all investors -- not just Fannie Mae and Freddie Mac, said Guy Cecala, chief executive of Inside Mortgage Finance, an industry publication.
"FHFA is effectively questioning whether most of the mortgage securities packaged and sold during the go-go years of the mortgage market violated securities law," he said.
Government agencies, as well as private investors, are ramping up their actions against the financial firms that securitized home loans.
FHFA sued UBS (UBS) in July for the same type of deception in the mortgage-back securities it peddled. Last month, American International Group (AIG, Fortune 500) filed a similar $10 billion lawsuit against Bank of America (BAC, Fortune 500).
And in May, the U.S. Attorney's Office in Manhattan sued Deutsche Bank, claiming its MortgageIT unit made tens of thousands of bad loans and then misled the Federal Housing Authority into insuring them.
Bank of America reached an $8.5 billion settlement with a group of investors in June over the poor quality of the mortgage investments.
Meanwhile, attorneys general around the nation are trying to negotiate a settlement with mortgage servicers over their faulty foreclosure practices.
And earlier this year, Bank of America reached a $3 billion agreement with Fannie Mae and Freddie Mac over bad mortgages sold to the companies by Countrywide Financial.
In the most recent action, the complaints were filed against the following institutions: Ally Financial; Bank of America (BAC, Fortune 500); Barclays Bank (BCS); Citigroup (C, Fortune 500); Countrywide Financial; Credit Suisse Holdings (CS); Deutsche Bank (DB); First Horizon National (FHN); General Electric (GE, Fortune 500); Goldman Sachs (GS, Fortune 500); HSBC North America; JPMorgan Chase (JPM, Fortune 500); Merrill Lynch/First Franklin Financial; Morgan Stanley (MS, Fortune 500); Nomura Holding America; Royal Bank of Scotland (RBS); Societe Generale.