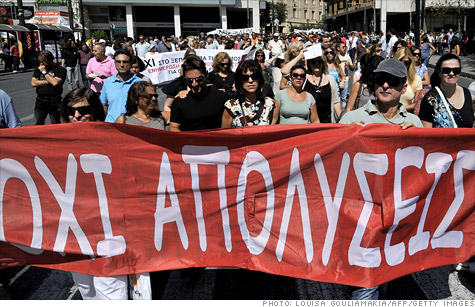 Public sector employees carry a banner, reading: "No Layoffs," as they demonstrate outside the Greek Parliament on September 21, 2011.
NEW YORK (CNNMoney) -- The Greek government announced budget cuts Wednesday aimed at securing additional aid from its European partners as the debt-stricken nation struggles to dig itself out of a deep hole.
Elias Mossialos, a government spokesman, said in a statement that the cuts demonstrate Greece's commitment to meet its obligations and remain a member of the European Union.
The measures will enable Greece to achieve its budget targets for this year and next, "and allow the full implementation of the support of the Greek economy by 2014," said Mossialos.
Greece has been in talks all week with its bailout providers at the International Monetary Fund, European Commission and European Central Bank.
The talks centered on fiscal targets Greece must meet in order to secure €8 billion in emergency funding from the so-called troika of global agencies.
Without those funds, Greece is expected to run out of the cash it needs to pay all of its bills by mid-October.
Troika monitors will return to Athens next week, but a decision on the much-needed funds may not come until next month.
Under the new reforms, Greece will place 30,000 civil servants in "labor reserve" through the end of 2011. That amounts to 3% of all public sector employees in Greece.
The cabinet also cut pensions for workers receiving payments of more than €1,200 and retirees under the age of 55. It also agreed to cap the nation's tax-free threshold at €5,000, which it says is in line with other euro area nations.
In addition, Greek leaders made a series of decisions designed to promote structural changes in the Greek economy. In particular, the government is focusing on ways to privatize state assets and improve the nation's labor market.
The cabinet is also working on an overhaul of Greece's tax system, which the legislature will vote on in October. The goal is end "injustices and inequalities" that have undermined "the social and developmental cohesion of the country," said Mossialos.
The cuts come on top of austerity measures Greece has already imposed under the terms of the €110 billion bailout it received last year.
The unpopular reforms have sparked protests and riots in Athens and other cities.
European leaders agreed in July to provide an additional €109 billion bailout for Greece. Economists say that agreement, which has not been approved yet, would cover Greece's financing needs at least through 2014.
Investors around the world have been rattled by the possibility Greece could default on its debts. The fear is that a messy default could destabilize other troubled euro area nations and cause a banking crisis.
Stocks in London (UKX), Paris (CAC40) and Frankfurt (DAX) fell between 1.4% and 2.5% Wednesday.
-- CNN's Elinda Labropoulou in Greece and Jim Boulden in London contributed to this report.