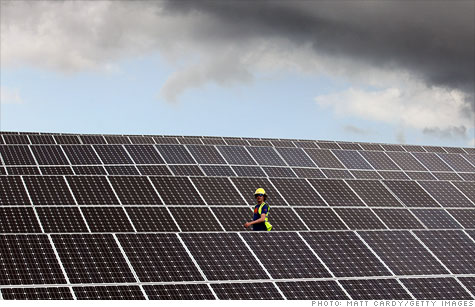 Falling prices helped to bankrupt Solyndra. The Energy Department has $806 million riding on similar solar firms, are they also doomed?
NEW YORK (CNNMoney) -- At least three other government-backed solar firms face the same challenging market conditions that brought down Solyndra, the now bankrupt solar panel maker that could cost taxpayers over $500 million.
The Solyndra bankruptcy is now the subject of an investigation and a fierce partisan fight in Congress.
The company's downfall is generally thought to have been caused by the declining price of silicon.
Solyndra didn't use silicon. But many of its competitors did -- traditional solar firms like Sunpower (SPWRA), Trina Solar (TSL), Yingli (YGE) and Jinkosolar (JKS). Solyndra was banking that high silicon prices would give it a competitive advantage.
When silicon prices plummeted, Solyndra lost its edge.
And Solyndra wasn't alone. Three other firms the Energy Department has backed are relying on the same principle.
Those companies include Abound Solar, Solopower and 1366 Technologies. Together, they have received $806 million in loan guarantees from the Energy Department.
Are they also doomed? Experts say that if they can further develop their technology they may have a fighting chance but market conditions in the near-term are working against them.
"Part of their business plan was based on solar grade silicon having a high cost," said Scott Brown, chief executive of the private equity firm New Energy Capital. "That premise is no longer there."
Abound Solar said its panels are still competitive, and 1366 Technologies was unavailable for immediate comment. Solopower did not return a call and email.
An Energy Department spokesman said the agency was not worried about these companies failing, saying it conducts rigorous reviews of all the ventures it funds.
Falling prices: Silicon prices have fallen from about $500 a ton a couple years ago to $50 a ton today, said Brown, thanks in large part to major investment in silicon-producing plants by China.
China's investment in silicon as well as its huge investments in solar panel makers, combined with weaker demand worldwide as subsidies expire in Europe, caused the price of traditional solar panels to plummet.
In the last year alone they fell some 40%.
All across the globe, solar panel makers, especially ones that were developing more advanced technology, are finding it hard to compete with the Chinese as the price of solar panels drops.
But for the rest of the industry, cheap solar panels are great news.
Cheaper panels mean more people will switch to the clean technology. Work has been booming for solar installers, project developers, and financiers. Just this week the industry said solar power capacity in the United States jumped 69% in the second quarter compared to the same time last year.
The Energy Department, as part of its plan to fund R&D and commercialization of renewable and clean energy technology, has backed or is considering backing loans to 42 firms across the sector totaling $39 billion in funding.
Most of the loans have gone to lower risk generation projects like big wind and solar farms which have signed long-term power purchase agreements with utilities.
But a handful of the loans were considered to be higher risk because they went to cutting edge manufacturers. Among them are makers of so-called thin film solar technology.
Thin film panels, which use no silicon, produce less electricity per panel than traditional silicon ones. But they are cheaper to produce, and are therefore ideally suited to large-scale deployment.
"If solar is going to be on par with coal, thin film is likely the answer," said Jessie Pichel, head of clean energy research at the investment bank Jefferies & Co. "But they need more time to develop the technology. The near-term outlook is quite bleak for thin film companies."
The collapse in prices for traditional solar panels has made it even more important for the industry to further develop thin film technology that can compete. Pichel said many thin film firms have scrapped production plans and gone back to the research lab.
Not so for ill-fated Solyndra. Its combination of thin film technology with a cylindrical design went head-to-head with traditional panels. The firm went belly up last month.
Still in the game: Abound Solar, which got a $400 million loan backed by the DOE, isn't backing down either.
Julian Hawkins, head of sales and marketing for Abound, said the firm is using some of the money to add a second line of production at its Colorado facility, and then plans on using the lion's share of it to revamp an old DaimlerChrysler building outside of Kokomo, Indiana, starting in 2012.
Hawkins said the fall in silicon prices has been difficult for the firm in the short term, but that Abound's strategy relies on improving the manufacturing process itself, not the technology in particular.
He says the company's solar panels are already competitive with traditional silicon panels.
"Making solar panels more cheaply is the basis of the company," said Hawkins. "We're still on track."
The Obama administration, which has taken considerable heat over the Solyndra collapse, is clearly hoping that optimism pans out.