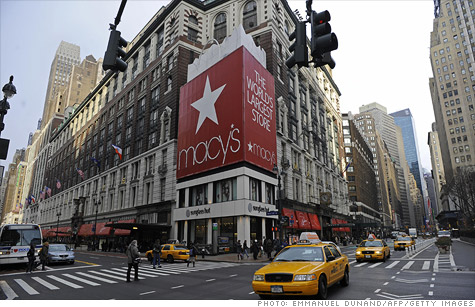 Macy's is hiring 78,000 seasonal workers to handle the holiday rush.
NEW YORK (CNNMoney) -- The retailer Macy's announced Monday that it plans to hire 78,000 temporary workers for the holiday season.
Macy's said this is an increase of 4% from last year, when the retailer hired 75,000 seasonal jobs.
"We expect additional hiring this year given the continued sales growth in our business, both in-store and online," said Macy's Chief Executive Terry Lundgren.
Macy's (M, Fortune 500) stock rose 2% on the news.
The company said it needs to staff Macy's and Bloomingdale's stores, call centers, distribution centers and warehouses that store products for online shipping.
Most of the seasonal positions are part-time, with evening, weekend and overnight shifts required. The company said these temporary positions can lead to year-round jobs "in some cases."
Not including seasonal jobs, Macy's employs about 170,000 people year-round. These jobs are primarily full-time, according to Macy's spokesman Jim Sluzewski.
This follows a recent announcement from Toys 'R' Us that the toy retailer plans to hire 40,000 workers for the holiday season.
The hiring surge should come as welcome news to many Americans, considering the depressing state of the U.S. job market.
The unemployment rate is currently at 9.1%. The most recent monthly payrolls report said that no jobs were created in August.
About 14 million Americans remain unemployed and 42.9% of them have been out of work for more than six months, according to government statistics.