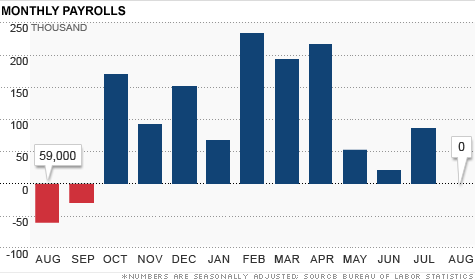 NEW YORK (CNNMoney) -- So much for getting Labor Day weekend off to a good start.
The economy added no jobs in August, the Labor Department said Friday.
Zero, zilch, nada.
Meanwhile, the unemployment rate remained at 9.1%.
"We expected a weak report, and what we got was even weaker," said Patrick O'Keefe, director of economic research at J.H. Cohn.
The report was partially helped by 22,000 state workers in Minnesota returning to work after a temporary government shutdown in July, but was also hurt by 45,000 Verizon workers on strike in August.
Adjusting for those events, the economy probably added more like 23,000 jobs in August -- still dismal compared with monthly gains of about 200,000 earlier this year.
Focusing on the one-time blips is like giving a skunk a dinner mint, O'Keefe said. "It's still a skunk and it still stinks."
Economists typically estimate the nation needs to add about 150,000 jobs each month to keep up with population growth alone. It needs even stronger growth to recover the 8.8 million jobs lost during the financial crisis.
Weak hiring in August was hardly a surprise. The month started with Congress haggling about the debt ceiling, Standard & Poor's downgrading the United States credit rating and the stock market zigzagging.
Consumer confidence plunged to its lowest level since the recession, and fears of an even weaker economy likely kept employers on the sidelines, instead of hiring.
Temporary factors: The Verizon strike temporarily deflated the job figures because union workers walked off the job during the week that the Labor Department collected payroll data from companies.
Even though they have since returned to work, they still won't be included in the official national tally until the government releases its September numbers on Oct. 7.
Similarly, Minnesota workers who had been out of work temporarily during a government shutdown in July, showed up again in the August report, clouding the overall reading even further.
Expecting those distortions, a CNNMoney survey of 21 economists had predicted the economy would add 75,000 jobs in August.
They also expect job growth to remain weak for the rest of the year, with the economy adding an average of 110,000 jobs each month and the unemployment rate barely ticking down to 8.9%.
The White House said yesterday that it predicts the unemployment rate will remain stubbornly high, not falling below 6% until 2017.
Who is unemployed? About 14 million Americans remain unemployed and 42.9% of them have been out of work more than six months.
Blacks have it the worst, with an unemployment rate at 16.7% -- its highest level since 1984. The unemployment rate for Latinos was unchanged at 11.3% and the unemployment rate for whites fell slightly to 8%.
Another 2.6 million people were considered "marginally attached" to the workforce in August. They wanted and were available for work, and had looked for a job sometime in the last year, but were not counted in the unemployment figures because they weren't actively searching for a job in August.
Overall, the so-called underemployment rate, which includes those people, as well as people who want to work full-time but are forced to work part-time, rose to 16.2%.
The last time the government reported exactly zero jobs added in a month was in February 1945.
Have you run out of unemployment benefits? How are you surviving? Send an email to realstories@cnnmoney.com and you could be profiled in an upcoming piece on CNNMoney. Please include your phone number. For the CNNMoney Comment Policy, click here.