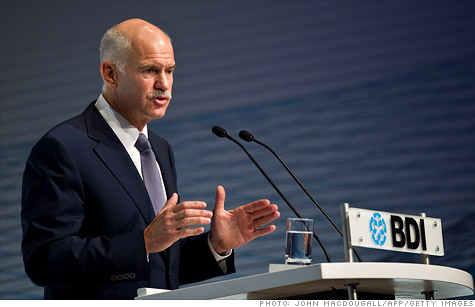 Greek Prime Minister George Papandreou addressed a meeting of the Federation of German Industry in Berlin on Tuesday regarding Greece's economy.
BERLIN (CNNMoney) -- Greek Prime Minister George Papandreou "can guarantee that Greece will live up to all its commitments," he said Tuesday to an audience of German business leaders.
"I promise you we Greeks will soon fight our way back to growth and prosperity."
He was speaking as Greece braced for strikes in the face of government efforts to raise taxes and slash spending to try to close its huge budget deficit.
Papandreou said European nations needed to "stop blaming each other" for economic and financial problems that are threatening the stability of their common currency, the euro.
"The eurozone must now take bold steps towards fiscal integration to stabilize the monetary union," he said at a meeting of the Federation of German Industries.
The Greek prime minister urged Europe to expand the emergency rescue fund known as the European Financial Stability Facility.
And he called for tighter enforcement mechanisms to keep individual countries from running the kind of budget deficits that have caused problems for Greece, and, by extension, the euro.
The European Union and the International Monetary Fund have poured money into Greece to keep it from defaulting on debts -- a move that could have catastrophic consequences the euro.
But the international organizations have demanded that Greece put its finances in order if it is to continue receiving future installments of the money it has been promised.
Japan on Tuesday floated the idea that it, too, could contribute money to help Greece.
Finance Minister Jun Azumi said there was a "possibility Japan will share some of the burden" if agencies hammer out a "firm process and scheme with a reasonable amount of money that could provide the world market with a sense of security regarding a Greek bailout."
Unpopular belt-tightening measures have put Greece on track to achieve a primary budget surplus by the second half of 2012, Greek Finance Minister Evangelos Venizelos said in Washington on Sunday.
He vowed Sunday that Greece would do "whatever it takes" to meet its financial obligations.
But he warned that the measures have taken a toll on the Greek economy, which has been in recession for three years.
While the government in Athens remains committed to reforms, Venizelos argued that the nation's "sacrifices" should be matched by support from other euro area nations.
Greece has been in intense negotiations over the last few weeks with representatives from the IMF, European Commission and European Central Bank. The talks have centered on certain fiscal targets Greece needs to achieve in order to obtain the next installment of last year's €110 billion bailout package.
Investors around the world have been rattled by the possibility that Greece could default if it does not receive the €8 billion installment. The larger fear is that a default by Greece could drag down other euro area nations and cause a banking crisis.
-- CNN's John Defterios, Christine Theodorou, Ben Rooney and Junko Ogura contributed to this report.