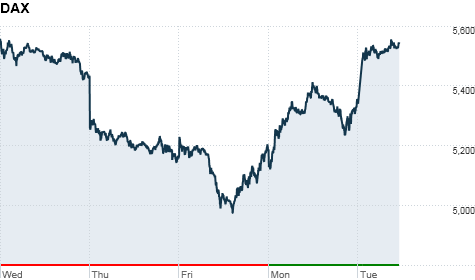 Click on chart to track markets
NEW YORK (CNNMoney) -- World markets surged Tuesday on hopes that European leaders are getting more aggressive in coming up with a debt crisis resolution, adding fuel to the banking sector.
The markets rallied on the belief that "European officials are working on a detailed plan to contain the crisis," wrote Deutsche Bank analyst Jim Reid in a note to investors.
European markets closed strong. London's FTSE 100 (UKX) jumped 4%, the DAX (DAX) in Frankfurt surged 5.3% and the CAC 40 (CAC40) in Paris was up 5.7%.
The Hang Seng in Hong Kong led the Asian markets, closing higher by 4.2%. The Nikkei in Tokyo closed higher by 2.8%.
Much of this positive sentiment was sparked by reports suggesting there's a plan in the works to shore up European banks weighed down by bad sovereign debt. The plan would allow this debt to be exchanged for bonds issued by the European Investment Bank, which is owned by the member states of the European Union, and funded by the European Financial Stability Facility, a company created by the countries that use the euro.
"If all the reports over the last 48 hours concerning plans to notably leverage up the EFSF and for the EU to aggressively recap banks end up as reality in a few weeks' time, then markets will likely rebound strongly from here," wrote Reid
Banks rose on the wave of investor optimism. In Paris, Credit Agricole surged 13% and Societe Generale jumped 17%.
U.S. banks also benefited, continuing their rally from Monday. JPMorgan Chase (JPM, Fortune 500) and Bank of America (BAC, Fortune 500) rose nearly 3%. and Goldman Sachs (GS, Fortune 500), Bank of America (BAC, Fortune 500), Wells Fargo (WFC, Fortune 500) and Citigroup (C, Fortune 500) were up more than 3%.
But the Deutsche Bank analyst was still skeptical of the plan going forward: "Does it really have the full blessing of the Germans, the ECB and the rating agencies, to name but a few important players?" he asked.