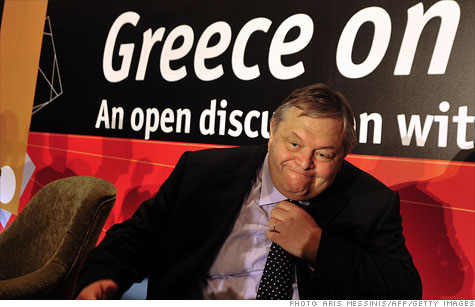 Greek finance minister Evangelos Venizelos said Sunday that his country "wants to make it and will make it."
WASHINGTON D.C. (CNNMoney) -- Speaking in Washington at an international banking conference, Evangelos Venizelos said Sunday that his country will do "whatever it takes" to meet its financial obligations.
"Greece wants to make it and will make it," Venizelos told members of the Institute of International Finance. "We are ready to take the necessary initiatives, at any political cost."
But the cost is "very expensive," he added, saying that Greece should not be a "scapegoat" for the broader sovereign debt problems in Europe.
Greece has been struggling to dig itself out a deep hole for well over a year, with limited success. The government in Athens came to the brink of default last year, and again in July, before being rescued by other European nations and the International Monetary Fund.
While then nation's debt load is nearly twice the size of its economic output, Venizelos said Greece makes up a tiny fraction of the overall debt burden of the overall euro-zone.
"Greece is not the euro area's central problem," he said.
Venizelos pointed to the painful reforms Greece has undertaken to cut government expenses and raise taxes, including a series of public sector layoffs and pension reductions announced last week.
"We, more than anyone else, believe that these changes are absolutely necessary for our nation's future," he said.
The unpopular belt-tightening has put Greece on track to achieve a primary budget surplus by the second half of 2012, according to Venizelos.
But he warned that such austere measures have taken a toll on the Greek economy, which has been in recession for three years.
While the government in Athens remains committed to reforms, Venizelos argued that the nation's "sacrifices" should be matched by support from other euro area nations.
Greece has been in intense negotiations over the last few weeks with representatives from the IMF, European Commission and European Central Bank. The talks have centered on certain fiscal targets Greece needs to achieve in order to obtain the next installment of last year's 110 billion euro bailout package.
Investors around the world have been rattled by the possibility that Greece could default if it does not receive the 8 billion euro installment. The larger fear is that a default by Greece could drag down other euro area nations and cause a banking crisis.
Venizelos stressed the need to send a "safe and stable message" to investors in order to break the vicious cycle of "noise and rumors" about a Greek default.
"We must convince the market that the euro area can protect itself and its members," he said.
Meanwhile, finance officials from around the world were wrapping up a weekend summit across town at the headquarters of the IMF and World Bank.
The euro area crisis was the main topic of conversation, but the meeting failed to produce the concrete actions that many outside observers had been hoping for.
European leaders pledged to implement a series of reforms announced in July, including a proposed overhaul of the European Financial Stability Facility. The goal is to empower the fund to buy sovereign debt directly from investors and provide lines of credit to shore up weak banks.
The talks also covered ways to enhance the effectiveness of the 440 billion euro stability fund, which many analysts say is too small.
But the proposed overhaul of the stability fund, along with a second 109 billion euro bailout for Greece, must be approved by the individual governments of all 17 euro area nations.
EU officials have said they plan to implement the reforms by mid October. But many analysts say that is far from certain.