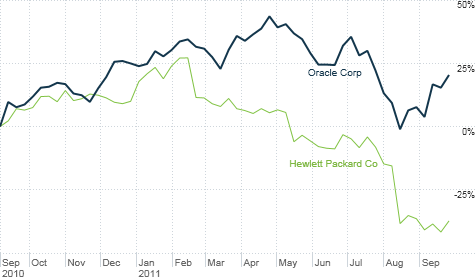 Shares of Oracle have surged since it hired former HP CEO Mark Hurd in September 2010. But HP's stock has continued to plummet.
NEW YORK (CNNMoney) -- Mike Tyson once famously boasted that he wanted to eat a rival's children. You kind of get the feeling that's how Oracle CEO Larry Ellison feels about Hewlett-Packard.
Oracle (ORCL, Fortune 500) is clearly enjoying the fact that HP has been stumbling and bumbling for a while now. The software giant hired former HP CEO Mark Hurd to be its president last year, and Ellison takes great pride in rubbing salt in the HP wound.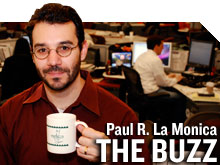 The latest example? In a highly unusual public spitting match, Oracle blatantly accused the CEO of Autonomy, a British software firm that HP is buying for more than $10 billion, of lying.
Ellison claimed during Oracle's earnings call last week that Autonomy had been shopped to Oracle, which had no interest because a $6 billion price tag was "absurdly high."
Autonomy CEO Mike Lynch denied that a meeting took place.
On Wednesday night, Oracle put out a press release saying that Oracle had PowerPoint presentations from Autonomy's investment banker. It also offered up the specific date and time of a meeting between Lynch and Hurd.
Lynch then admitted in other reports published Wednesday that he did meet with Hurd -- but only to talk about technical issues in software. So Oracle followed up with another press release at 1:31 Thursday morning with the headline "Another Whopper From Autonomy CEO Mike Lynch."
In that release, Oracle included a link to a section on its website with the catchy link Oracle.com/PleaseBuyAutonomy. That page featured the PowerPoint slides.
Wow.
Why did Oracle do this? Ellison is known for being, uh, eccentric. But this is a new high (low?) for the company. Oracle was not immediately available for comment.
Simply put, I think Oracle smells blood. Like the shark that Ellison is, he's hoping to move in for the kill.
HP fired Hurd's successor Leo Apotheker last week (just one month after HP announced the Autonomy deal), plans to shut down its tablet business and is considering a possible spin-off of its PC unit. Former eBay (EBAY, Fortune 500) CEO Meg Whitman was named to replace Apotheker.
Shares of HP are down more than 40% this year. Still, the stock has recovered a bit since Whitman came on board, and HP remains a very large company. Its market value, even in its wounded state, is nearly $50 billion.
That's a lot for Oracle, despite being worth $150 billion and having nearly $30 billion in cash, to bite off and chew.
"Ellison would love to buy HP," said Eric Jackson, managing member at Naples, Fla.-based hedge fund Ironfire Capital. "The problem is HP's size. Even though it's down so much, it would still be a very big deal. But people are salivating because HP is so cheap."
Jackson, whose firm has no position in HP or Oracle, said that HP's stock would probably need to drop at least another 15% before it might come into play as a takeover target.
Poking fun at how much HP may be overpaying for Autonomy is not going to win Ellison any friends on HP's board. But it may irritate shareholders who already think HP needs to make more changes to get back on track.
To that end, The Wall Street Journal reported Wednesday night that HP has hired Goldman Sachs to help it fend off the possibility of activist shareholders. A spokesman for HP would not comment about the report other than to say that HP "has long-term relationships with a number of investment banks."
But it's no secret that Oracle loves a good acquisition. Ellison has also proven that he's willing to go hostile when needed. Oracle fought successful battles to buy PeopleSoft and BEA Systems.
And make no mistake: The only way that Oracle could buy HP is if it bypassed management and went directly to frustrated shareholders.
That's why the trash talk about Autonomy is sort of a brilliant move, albeit in an evil genius (picture Ellison stroking his beard) kind of way. Ellison doesn't have to worry about burning bridges. That ship -- to use a term that yachtsman Ellison may approve of -- has already sailed.
For one, HP's board has no love for Hurd right now. Plus, the new chairman of HP is Ray Lane, who previously worked for Ellison and left Oracle in 2000 under semi-acrimonious circumstances to go work for VC firm Kleiner Perkins.
"An Oracle deal is not a possibility unless you change the board at HP. There is a lot of poisoned water there," said Tom Villalta, manager of the Jones Villalta Opportunity Fund (JVOFX) in Austin.
Villalta said his fund recently purchased a stake in HP -- before Apotheker was fired -- because he thought the stock was a compelling value. And how's this for irony? Villalta said the fund sold its position in Oracle to buy HP.
But Villalta still thinks Oracle is a great company. He said his fund booked a big gain on Oracle and felt that HP was now a better bargain. However, he welcomed the possibility of owning Oracle again if it bought HP.
"I don't think Oracle doing a deal for HP would be a bad thing. Oracle has been very adept at purchasing companies and squeezing value out of them," Villalta said.
With that in mind, it seems that HP may need to worry more about fending off Oracle than the likes of Carl Icahn, Bill Ackman, Jana Partners or any other pesky activist types that may come calling. Ellison's a much bigger -- and more determined -- threat.
The opinions expressed in this commentary are solely those of Paul R. La Monica. Other than Time Warner, the parent of CNNMoney, and Abbott Laboratories, La Monica does not own positions in any individual stocks.