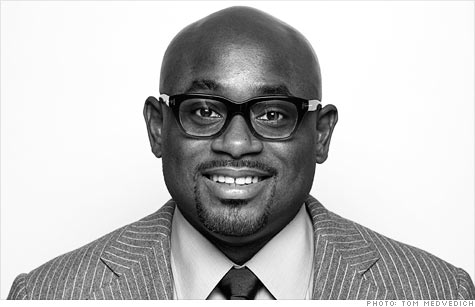 NEW YORK (CNNMoney) -- Many people might not recognize the name Steve Stoute. But they probably know his business partner -- Grammy-winning rapper Jay-Z -- and many of his clients -- State Farm, Samsung, Hewlett-Packard and Reebok.
The 41-year-old entrepreneur is the founder and CEO of Translation LLC, an advertising, branding, marketing and consulting company. With Translation, Stoute has established himself as the go-to guy for Fortune 500 brands who want to partner with celebrities and rebrand their products.
Stoute has created ad campaigns featuring Beyonce for Tommy Hilfiger's True Star fragrance and Justin Timberlake promoting "I'm lovin' it" for McDonald's. For companies, these pairings have reinvigorated their brands and attracted the coveted 12- to 24-year-old consumer market.
In his new book, "The Tanning of America: How Hip-Hop Created a Culture That Changed the Rules of the New Economy" (Gotham), Stoute offers advice on how businesses can recognize and gear their marketing efforts to what he calls "the tanning of America."
"Today's consumers represent a mindset, rather than a race or age. They have the same 'mental complexion' based on shared experiences and values," Stoute said. "This generation has been shaped by hip hop, not just the music, but everything from attitude to apparel."
We asked Stoute to tell us what entrepreneurs need to know to ensure success with a new generation of consumers. Here's what he said:
Learn to tan your business.
I realized how far-reaching the effect of hip hop was when I walked by a jewelry store named Bling in a small, rural town in France. Hip hop has made a huge impact on urban culture. Yet many brands still don't speak to young people in a tone and manner that's representative of them.
I encourage businesses to embrace change, to evolve, and become more relevant to this new generation of consumers while staying true to their core brand.
Make sure your spokespeople have shared values.
Many businesses believe a celebrity endorsement adds magic dust to their brand, but this kind of thinking can lead to big advertising mistakes. St. John hired Angelina Jolie to be the face of their luxury label and then felt her fame overshadowed their brand.
Buick hired Tiger Woods to be the face of their ad campaign, but everyone knew Tiger didn't drive a Buick. Companies need to align themselves with celebrities who have shared values. The most successful relationships come from brands and celebrities who view themselves as true business partners.
Set the bar high
I tell young entrepreneurs to use the leader in their industry and as a benchmark as they work to create their own brand. Don't look at what your competition is doing -- if you emulate the leader in your industry you will achieve a higher level of engagement with consumers and make their buying experience richer.
Use social media appropriately.
Having a social media presence is a good way to raise awareness of your brand and to gain a level of understanding of how consumers feel about your brand. Don't make the mistake of abusing Facebook, Twitter or YouTube by thinking that success is about who has the highest numbers. You want to use social media to build a relationship with consumers, and obtain a general barometer of what customers think about your products and services.
Get to know the millennials.
The millennial demographic is composed of 54 million consumers between the ages of 12 to 24. This is a polyethnic generation -- one young adult may represent several different ethnicities.
More and more consumers are checking the 'other' box on the Census. And rather than looking at this generation's differences, I encourage businesses to look at the vision they share, how they see the world, and why it's important to create an advertising message that rings true with them.