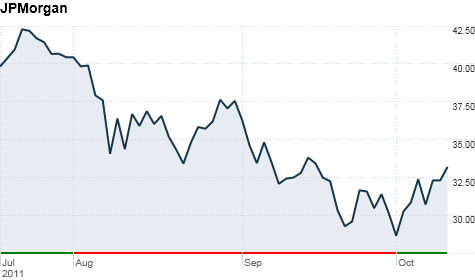 Click chart for more on JPMorgan.
NEW YORK (CNNMoney) -- JPMorgan reported declining profits and sales figures Thursday as volatile financial markets hit the company's trading and investment banking operations.
The nation's second-largest bank by assets is "being extremely cautious while navigating through this challenging economic environment," said Chief Executive Jamie Dimon.
JPMorgan made $4.3 billion, or $1.02 a share, in the third quarter. That compares to $4.4 billion, or $1.01 a share, in the year-earlier quarter.
The latest earnings per share figure topped the recently reduced 91 cent-a-share profit expected by Wall Street analysts.
Revenue fell 11% from a year ago to $24.4 billion. Despite the drop, sales were better than the $23.4 billion forecast from analysts at Thomson Reuters.
Looking ahead, JPMorgan said it's "not unreasonable" to expect financial markets to remain choppy in the current quarter.
Shares of JPMorgan (JPM, Fortune 500) fell 6.6% in midday trading, dragging down the broader market.
JPMorgan's investment banking business took a hit amid a slowdown in merger and acquisition activity, initial public offerings and corporate debt deals.
Revenue from investment banking fell 13% in the quarter, as JPMorgan had previously warned.
Trading profits were boosted by gains the bank realized after adjusting the value of certain derivatives to reflect a widening of credit spreads.
Excluding those gains, JPMorgan said fixed income revenue fell 14%, while equity market sales dropped 15%.
On Europe, JPMorgan said that it has $15.1 billion in net exposure to the five most troubled European economies -- Greece, Portugal, Ireland, Italy and Spain.
That figure includes government bonds, as well as JPMorgan's exposure to European banks and corporations.
"If everything goes terribly and all these countries default...that's where we came up with the $15 billion," said Dimon.
Dimon stressed that JPMorgan has hedged its holdings of euro area sovereign debt and its loans to banks and companies in Europe are collateralized.
"We still don't expect the worse case, in terms of charge offs, in any event," he said.
Meanwhile, Dimon said the bank is bracing for a host of new government regulations, which could add $1 billion to the bank's overhead costs.
"Some of that's a waste of money, but that's life, we have to do it," he said.
Dimon also warned that the bank may scale back a plan to grow its branch network due to increased regulatory costs.
On Tuesday, the FDIC approved a draft version of the so-called Volcker rule, which would crack down on big banks that make risky bets with their own money or own hedge funds.
Dimon argued that the bank's "market making" operations, in which it acts as a middleman for buyers and sellers of securities, is an essential part of the nation's capital markets system.
"That's a good thing," he said. "I wish Paul Volcker understood that."
Many banks have been laying off workers to offset declines in trading profits and increased costs from new regulations. The New York state comptroller said Tuesday it expects Wall Street to lose 10,000 jobs by the end of 2012.
"We expect to see the headcount going down, but no major layoffs," said Dimon.
Despite growing layoffs on Wall Street, bonuses for investment bankers at JPMorgan remain relatively generous.
Year to date, the so-called bonus pool at JPMorgan stands at $7.7 billion. That translates to an average bonus of $289,611 for investment bankers, compared with $298,866 in the same period last year.
However, the amount of money JPMorgan set aside for bonuses in the third quarter fell substantially from the second quarter of this year, when trading profits were growing.
The banking industry has become a prime target for public outrage over the state of the economy. In addition, banks have been hiking fees on customers to make up for the cost of new regulations.
Protesters affiliated with the Occupy Wall Street movement picketed Dimon's New York mansion on Tuesday.
Dimon acknowledged that the industry "has issues" with its public perception, but he stressed that JPMorgan remains well liked.
"Most of our clients like us," he said. "Even our mortgage clients."
JPMorgan is one of several U.S. banks being sued by state regulators for allegedly mishandling foreclosure procedures.
It is also being sued by the federal government in an attempt to recover billions of dollars in losses from risky mortgage investments.
While he conceded that the bank has "made mistakes," Dimon argued that JPMorgan is well positioned to grow its mortgage business.
"We try to do our best, like any other business," he said.
JPMorgan is the first major U.S. bank to report in what is expected to be a dismal quarter for the industry. Bank of America (BAC, Fortune 500), Citigroup (C, Fortune 500), Goldman Sachs (GS, Fortune 500), Wells Fargo (WS) and Morgan Stanley (MS, Fortune 500) will release quarterly statements in the next few weeks.
-- CNNMoney staff writer Maureen Farrell contributed to this report.