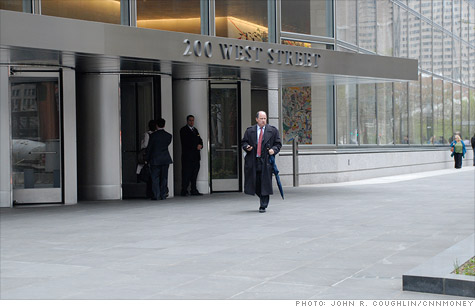 New York City could lose 10,000 financial securities jobs by the end of 2012, according to the state comptroller.
NEW YORK (CNNMoney) -- The New York state comptroller expects Wall Street to lose 10,000 jobs by the end of 2012.
The job losses are projected to occur in New York City's securities industry from now through December, 2012, according to Eric Sumberg, press spokesman for state comptroller Thomas DiNapoli.
"It now seems likely that profits will fall sharply, job losses will continue, and bonuses will be smaller than last year," DiNapoli said in a press release. "These developments will have a rippling effect through the economy and adversely impact state and city tax collections."
The comptroller blamed the dismal outlook on "uncertainty due to the European sovereign debt crisis, a sluggish domestic economy, volatile stock markets and regulatory changes."
The comptroller's office highlighted Wall Street's strong start for 2011, noting that the securities industry has weakened considerably through the rest of the year.
Wall Street added 9,900 jobs from January 2010 and April 2011, but then lost 4,100 jobs through August.
The comptroller's report said that "job losses are likely to continue given declines in profitability and recent layoff announcements," projecting that Wall Street job cuts could total 32,000 for the period from January 2008 to the end of next year.
The member firms of the New York Stock Exchange earned $9.3 billion in the first quarter, but profits "declined sharply" in the second quarter and are expected to fall short of $18 billion for the entire year.
Stock prices for Wall Street banks fell in Tuesday trading, in a seesaw reaction to Monday's rally and nervousness ahead of corporate earnings from the second quarter.
Shares of JPMorgan Chase (JPM, Fortune 500), Goldman Sachs (GS, Fortune 500), Bank of America (BAC, Fortune 500), Wells Fargo (WFC, Fortune 500) and Morgan Stanley (MS, Fortune 500) all fell by about 1%, and Citibank (C, Fortune 500) dropped 2%.
Nationwide, the U.S. added 103,000 jobs in September, which was stronger than expected, the federal government reported earlier this month.
But the economy has recovered only 2.1 million of the 8.6 million jobs lost since the recession began, keeping the unemployment rate frozen at 9.1%.