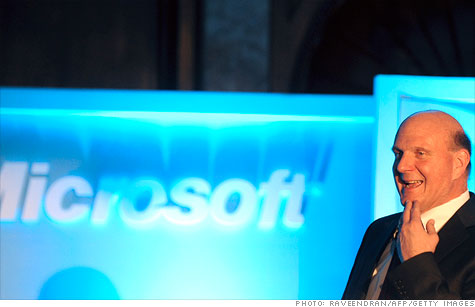 Microsoft CEO Steve Ballmer is trying to recharge his four-decade-old company.
NEW YORK (CNNMoney) -- Windows sales have softened, but strong demand for Microsoft's business software drove the company's revenue to a record seasonal high in the just-ended quarter.
Sales for the three-month stretch that ended Sept. 30 were $17.4 billion, up 7% compared to last year and slightly ahead of analyst expectations. Microsoft's net income for the quarter was $5.7 billion, or 68 cents per share, in line with forecasts.
Shares of Microsoft (MSFT, Fortune 500) dipped slightly in after-hours trading following the report, dropping less than 1%.
Microsoft's strongest division right now is its business software group, which includes Microsoft Office. Revenue in that division rose 8% to $5.6 billion, driven predominantly by Office. But steady sales of business integration and messaging software, including SharePoint and Exchange, helped too.
Microsoft's Windows division eked out 2% sales growth as the company heads toward the end of its Windows 7 product cycle and begins laying the groundwork for Windows 8, which is expected to launch in the next year.
Microsoft is battling headwinds in the PC market from smartphone and tablets, which have cut into the demand for laptops and desktop PCs.
Microsoft's online services division, the home of its Bing search engine, continues to be a cash sinkhole. The division lost $494 million last quarter, a decline from the $558 million it lost in the same quarter last year.
"In search, monetization of our ad platform remains below our expectations," Peter Klein, Microsoft's chief financial officer, said in a call with analysts Thursday afternoon. The company recently extended a search-and-advertising deal wth Yahoo and continues working to generate better results from that partnership, Klein said.
Microsoft analysts treated the results as fairly routine. "I'm used to a little more controversy," Nomura Securities analyst Rick Sherlund quipped. "It seems pretty clean."
Microsoft's core business lines continue generating plenty of money, but the 36-year-old company is on hunt for new growth engines. It's got a big cash stash to fuel any shopping it wants to do: Microsoft ended the quarter with $57 billion on hand.
Last week, Microsoft completed its $8.5 billion acquisition of Skype, a popular Internet-based calling system with more than 170 million monthly users worldwide.
Microsoft plans to operate Skype as a quasi-independent business division, though its sales will roll up into Microsoft's "entertainment and devices" unit.
"We're really thinking deeply about ways that we can bridge the consumer, voice and video world with the rest of our products, especially on the business side," Todd Setcavage, Microsoft's director of investor relations, said in an interview after the company's earnings release. He added that Skype's leadership will report directly to Microsoft CEO Steve Ballmer.
Microsoft is also rumored to be kicking the tires on Yahoo (YHOO, Fortune 500), whose board is considering buyout options. Yahoo spurned an unsolicited $47.5 billion takeover bid three years ago from Microsoft. Yahoo is now valued at less than half that.

Asked at a tech conference this week about getting turned down by Yahoo, Ballmer quipped: "Sometimes, you're lucky."
Microsoft will need another shot of luck to regain its vanguard position in the tech industry. The company's archrival, Apple (AAPL, Fortune 500), is now blowing past it in sales. Earlier this week, Apple reported quarterly sales of $28.3 billion, up almost 40% from a year ago.
Google (GOOG, Fortune 500) is also on a growth tear, with sales that rose 33% in its last quarter to $9.7 billion. Its planned acquisition of Motorola Mobility (MMI) will make it an especially formidable rival in the smartphone market, where Microsoft is trying to make headway with its Windows Phone 7 platform.
But there are glimmers of hope. Chip maker Intel (INTC, Fortune 500), Microsoft's longtime partner, reported record quarterly revenue this week and said semiconductor sales in its PC division rose 22% compared to last year.
While U.S. PC demand is waning, thanks in part to the tablet and smartphone boom, global demand is rising in hot spots such as China, India and Indonesia.