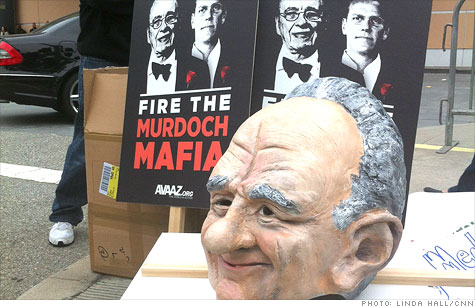 Protestors gathered outside the News Corp. annual shareholder meeting in Los Angeles on Friday.
NEW YORK (CNNMoney) -- Rupert Murdoch faced an onslaught from irate News Corp. shareholders on Friday over the phone hacking scandal that has engulfed the company in recent months.
As part of News Corp's (NWSA, Fortune 500) annual shareholder meeting in Los Angeles, one investor after another took the floor to condemn the leadership failures they said had contributed to the hacking embarrassment.
Shareholders also voted on the re-election of board members, including Rupert and his sons, James and Lachlan, and on a proposal to name an independent chairman.

Rupert Murdoch, who also serves as CEO, retained his chairman post, and his sons were also reelected, News Corp. said in a statement. With the Murdochs in control of around 40% of voting shares, their ouster had appeared unlikely.

Nonetheless, a number of shareholders did argue vocally for the Murdochs to be replaced.
"The pervasive and value-destroying scandal at our company requires stronger, independent leadership on the board," said Julie Tanner of Christian Brothers Investment Services, which brought forward the proposal to create an independent chairman.
"News Corp. governance problems have brought our company into the crosshairs of regulators, lawmakers, [and] law enforcement, and eroded public trust in our valuable brands."
Rupert Murdoch apologized for the hacking and vowed repeatedly to "put this right."
"There is simply no excuse for unethical behavior," he said.
"There are real issues that we must confront and are confronting. We could not be taking this more seriously, or listening as intently to criticisms."
Still, Murdoch was resolute in opposing the attempt to unseat him.
"The story of our company is the stuff of legend -- from a small newspaper in Adelaide, to a global corporation based in New York with a market cap of $44 billion ... informing, entertaining and educating at least a billion people each day," he said.
News Corp's holdings include Fox television, Dow Jones newswires and Harper Collins publishing.
In July, the company was forced to shutter its News of the World tabloid after allegations that employees of the paper had hacked into the voicemails of thousands of people, including a missing teenager who was later found murdered. There are also allegations that News of the World bribed police for information.
Murdoch and his son, James, were called to testify on the issue in July before the British Parliament, where they denied direct responsibility for the hacking.
During that hearing, the proceedings were interrupted when an audience member attempted to hit Rupert Murdoch with a plate of shaving cream. No such disruptions occurred on Friday, though shareholders did engage him in a series of spirited back-and-forths.
Edward Mason, a representative of the Church of England, stepped forward to express "deep concern about ethical and corporate governance at News Corporation" and argue for a reduced role for the Murdochs. He was quickly interrupted by Rupert, however, who observed: "Your investments haven't been that great."
Tom Watson, a British MP who traveled to Los Angeles for the meeting, said police in the UK were investigating allegations that private investigators associated with News Corp. had impersonated "a former prime minister" and had hacked into personal computers in addition to phones.
"You haven't told any of your investors about what is to come, and I have to say, Mr. Murdoch, if I know about this, then with all of the resources that you're putting into clearing up this scandal, you must know about this too," Watson said.
Murdoch called the allegations "rumors" that "are all being worked by us with the police." As the meeting wound down, he brushed off allegations that he was cutting off his critics prematurely, noting that Watson had appeared on Fox News that morning.
"It's all fair and balanced," he joked, referencing the channel's slogan.
For all the outrage on display at the meeting, the Murdochs' positions appear secure. The company's stock is up nearly 19% since last year, and Alan Gould, an entertainment analyst with Evercore Partners, said investors are mostly satisfied with News Corp's continued success in television and elsewhere.

"What you hear out of the meeting might be a little bit louder cry that what the true cry actually is from the shareholder base," he said.