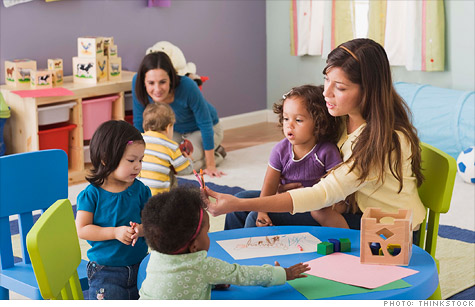 Child day care services is one of the hottest sectors for those looking to start a neighborhood business.
NEW YORK (CNNMoney) -- Thinking of starting a business? Strap in: It won't be easy. The economy is weak and consumers aren't spending freely.
But here's the good news: There are small business sectors that are growing -- and where the chances of success are higher, according to Sageworks, a financial software and information company.
To name a few: Child care. Liquor stores. Services that help people with their finances.
The best sectors are those with companies that are hiring and have strong profits and sales, said Libby Bierman, a financial analyst with Sageworks.
Sageworks, on average, receives 1,000 financial statements a day from 1,400 private industries that give it insight into 27 million privately-held U.S. companies.
Sageworks distilled the financial statements of companies with less than $10 million in revenue and found the top neighborhood small business sectors. Those small firms have had impressive sales and revenue growth over the past 12 months.
Financial investment activities: This sector includes financial planners, portfolio managers, investment advisors, but not investment bankers and securities dealers.
Total revenue for these types of businesses has jumped 12.3% over the past 12 months and profits have surged 16.2% in that period.
"Through the recession this sector took a beating as people became distrustful of financial advisors and started taking care of their finances themselves," said Bierman. But as the economy gradually improved, consumers are heading back to professionals to get investment advice, she said.
Child day care services: These are private businesses, such as day care and babysitting services, that provide care for infants and preschool children. This sector's sales are up 7.8% over the past year, with profits up 6% in that period.
"It could be that as people lose their jobs, women in particular are exploring areas where they can start home-based businesses. This is one area," said Raymond Keating, chief economist of the Small Business and Entrepreneurship Council.
Home health care services: These businesses include 24-hour home health aides, physical therapists, occupational therapists and dietary consultants. This sector's sales jumped 10% and profits increased 6.5% over the past 12 month, according to Sageworks.
"It's a wide variety of health services that generally don't require you to go to a doctor but the professionals come to you, instead," said Bierman.
She said an aging baby boomer population is fueling the demand and usage for these services.
Automotive parts, accessories and tire stores: Auto supplies stores are making money. Their sales are up 6.3% over the past year and profits are up 3.5%.
"People weren't buying cars through the recession," said Bierman. That really hurt the sector. But car-buying has picked up and consumers are also investing in improving their cars."
Restaurants with bars: Bierman said this sector tends to stay consistently healthy through good and bad economic times.
Over the past 12 months, sales have grown 5.6% and profits are up 5.2%.
Liquor stores: Alcohol sales tend to thrive in hard times, making this sector somewhat recession-resistant, said Bierman.
Over the past 12 months, total sales of businesses selling liquor are up 4.2% and profits up a little over 2%.
Legal services: These businesses include independent lawyers or law firms specializing in areas such as criminal, corporate, patent, family and estate law.
Total sales for businesses in this sector have jumped 7.2% over the past year, while profits have increased 12.2%.
Many people held off hiring a lawyer through the recession because of the cost, said Bierman. "But there's always going to be the need for mediation. People are more comfortable going to a lawyer now as the economy improves," she said.