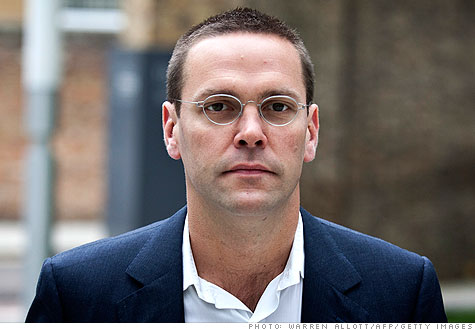 Thirty-five percent of News Corp. shareholders voted against re-electing James Murdoch.
NEW YORK (CNNMoney) -- A large percentage of News Corp. shareholders, upset by the hacking scandal in Britain, opposed the re-election of Rupert Murdoch's sons to the company's board of directors.
According to results of a vote at last week's annual meeting released Monday, 35% of shareholders voted against James Murdoch, deputy chief operating officer and head of the company's international division, while 34% of shareholders voted against Lachlan Murdoch, who heads the company's Illyria Property unit.
Chief Executive Rupert Murdoch retained his post as chairman, with only 14% of shareholders voting against him.
In July, the company was forced to shutter its News of the World tabloid after allegations that employees of the paper had hacked into the voicemails of thousands of people, including a missing teenager who was later found murdered. There were also allegations that News of the World bribed police for information.
Rupert Murdoch and his son James, who control about 40% of the voting shares of News Corp., were called to testify before members of Britain's Parliament regarding their role in the scandal. They denied direct responsibility for the hacking.
Despite many shareholders' anger against the Murdochs, Rupert Murdoch has said he will not step down.
News Corp's (NWSA, Fortune 500) holdings include Fox television, Dow Jones newswires and Harper Collins publishing.