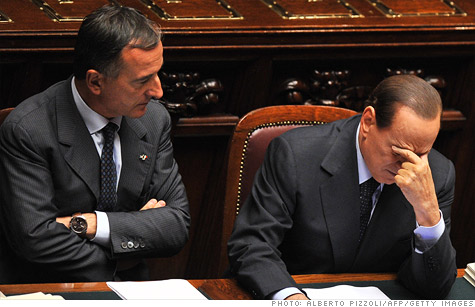 Italian Prime Minister Silvio Berlusconi and Foreign minister Franco Frattini discussed austerity measures during a session of the Italian parliament in September.
NEW YORK (CNNMoney) -- The Italian government narrowly averted a political crisis Tuesday by resolving a stalemate over controversial pension reforms, according to Italian media reports.
The political wrangling in Rome comes one day before European Union leaders hope to announce a definitive response to the debt and banking crisis in the eurozone.
Prime Minister Silvio Berlusconi has been under pressure to deliver concrete measures that will get Italy's debts under control and revive the nation's ailing economy.
At issue is a proposal to cut costs by raising the retirement age to 67 from 65. The Northern League, a political party aligned with Berlusconi's center-right government, had opposed the measure.
But Northern League leader and minister for reform Umberto Bossi told Italian media late Tuesday that his party had reached a deal on the reforms, he said.
The terms of the agreement were not immediately made public but were expected to be disclosed in a letter Berlusconi will deliver to EU heads of state on Wednesday.
The episode was the latest sign of political discord in the negotiations over a highly-anticipated set of policies EU leaders have promised to announce Wednesday. The plan is to decisively resolve the debt crisis in Greece, strengthen the banking sector and boost a government-backed rescue fund.
"The fragility of the Italian government is a threat to stability not just in Italy but in the eurozone as a whole," said Marc Chandler, head of currency strategy at Brown Brothers Harriman.
Investors have been increasingly worried that the debt crisis in Greece could spread to Italy, the third largest euro area economy. The nation has about €1.9 trillion in debt, equal to 120% of its gross output, and its economy has been stagnant for a decade.
Germany and France called on Italy to enact structural changes, including pension reforms, at a summit over the weekend. The reforms are seen as a key condition for the German parliament to approve changes to a crucial rescue fund called the European Financial Stability Facility.
The EFSF is expected to be used to partially insure new issues of government bonds by nations that are having trouble raising money in the debt market. Italy is potentially one of the main beneficiaries of the insurance scheme.
Yet economists say the political drama in Italy remains a major concern, given the nation's systemic importance in the region. The big concern is that a default by the Italian government could prove too costly for other EU nations to prevent.
"Italy is really key, because its debts are higher than Spain's, and policy has not been tightened anywhere near as much," said Hans-Joachim Voth, a professor of economic history at Universitat Pompeu Fabra in Barcelona.
--A CNN Wire report was used in compiling this article.