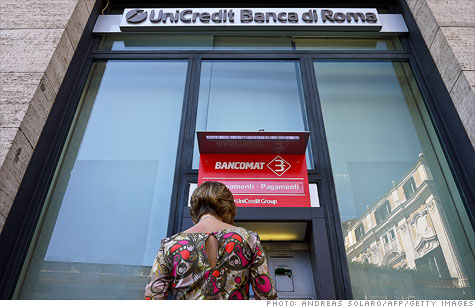 As the European debt crisis drags on, Standard & Poors downgrades 24 Italian financial institutions.
NEW YORK (CNN) -- Standard & Poor's Ratings Services downgraded 24 Italian financial institutions on Tuesday, including seven of its major banks.
The move came as leaders from across the eurozone scramble to find a solution to the continent's ongoing banking crisis and growing risk of a recession.
"Renewed market tensions in the eurozone's periphery, particularly in Italy, and dimming growth prospects have led to further deterioration in the operating environment for Italian banks," S&P said.
One of the major problems facing most European banks is their undercapitalization and S&P believes that Italian banks and financial institutions will need more funding than their other European counterparts.
The ratings agency included a one-notch downgrade of UniCredit SpA, Intesa Sanpaolo, Mediobanca SpA, and Banca Monte dei Paschi di Siena SpA which was founded in 1472. Also downgraded by one notch were: UBI Banca, Banco Popolare, Banca Nazionale del Lavoro SpA.
This is the third downgrade of British and European banks this month.
On October 7, Moody's Investor Services downgraded 12 UK financial institutions including three major banks. from one to five-notches. The following week Standard & Poor's gave15 Spanish banks negative ratings.
The downgrades come as the eurozone debt crisis drags on. It's been more than 18 months since the crisis started. In that time, it's grown into the biggest challenge the European Union has faced since the adoption of the euro as its single currency 12 years ago.