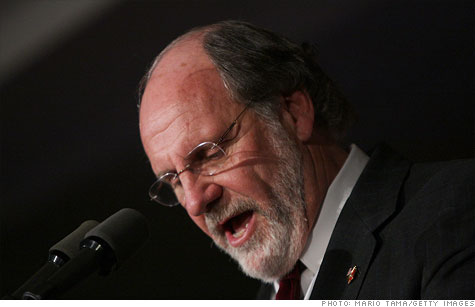 MF Global CEO Jon Corzine faces objections from JPMorgan Chase about his firm's bankruptcy filing.
NEW YORK (CNNMoney) -- MF Global executives pled in bankruptcy court Tuesday for access to enough money to keep the company afloat.
Judge Glenn Martin awarded the bankrupt brokerage firm $8 million, which should last MF Global until Nov. 14, according to a bankruptcy court representative.
An attorney for the brokerage firm had asked "to have a little bit of a lifeline to do some work, to see if we can survive."
MF Global filed for Chapter 11 protection Monday. The company, led by former New Jersey governor Jon Corzine, said it has more than $2.2 billion in debt.
But in an objection filed in federal bankruptcy court in New York, JPMorgan (JPM, Fortune 500) said it wants "to limit the relief" that MF Global is seeking.
JP Morgan holds the bulk of MF Global's debt, about $1.2 billion, while Deutsche Bank (DB) has another $1 billion.
MF Global owes another $10 million to 45 other creditors, including American Express (AXP, Fortune 500), KPMG and PricewaterhouseCoopers.
"JPMorgan is willing to work with the debtors, but, in these circumstances, the debtors have to recognize their burden of giving JPMorgan as much adequate protection as they can provide," said JPMorgan, in the court filing.
JPMorgan requested limits on MF Global's use of cash collateral during the bankruptcy process and asked for priority over other creditors in going after the brokerage's assets.
MF Global, a brokerage for commodities and derivatives, is closely followed by Wall Street analysts and investors, not the least because of its high profile chief executive Corzine, once the CEO of Goldman Sachs (GS, Fortune 500) and a former U.S. Senator.
MF Global was getting close to a deal with Interactive Brokers, which was considering a purchase of the brokerage. But the merger fell through during the vetting process, when Interactive Brokers (IBKR) took a close look at MF Global's finances.
"MF Global informed the regulators that the transaction had not been agreed to and reported possible deficiencies in customer futures segregated accounts held at the firm," said the Commodity Futures Trading Commission and the Securities and Exchange Commission in a joint statement on Monday.
The New York Times reported that $700 million was missing from MF Global's balance book.
A spokeswoman from MF Global has not returned messages from CNNMoney regarding the missing money or any other aspect of the case. A spokesman for Interactive Brokers declined to say whether his company will pursue a post-bankruptcy merger.
Anthony Sabino, business professor at St. John's University in New York, said that "a great deal of explaining needs to be done" by Corzine and others at MF Global.
"MF Global will have to answer these charges in court before what is already a group of angry creditors," Sabino said. "These are not charges of mere rule infractions, but allegations of violations of some of the most basic rules for safeguarding client funds in a brokerage firm situation, rules long established and well known to Mr. Corzine and his people."
MF Global has been, in part, laid low by the fallout from Europe's financial sector, which spread its contagion to Wall Street stocks on Tuesday. The brokerage was among firms that were forced to take write-offs as part of last week's deal to resolve the debt crisis in Europe.