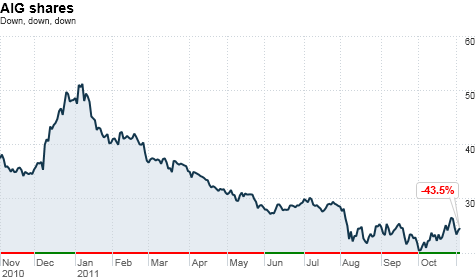 Click chart to track AIG shares.
NEW YORK (CNNMoney) -- American International Group is back in the red. Way in the red.
The bailed out insurer posted a net loss of $4.1 billion on Thursday, a loss per share of $2.16 for the third quarter. While analysts hadn't expected the company to post a profit, the size of the loss exceeded expectations.
The outsized loss sent AIG (AIG, Fortune 500) shares lower after the closing bell, with prices dropping more than 1% to $24.35.
And that's bad news for taxpayers, since the U.S. Treasury still owns a substantial chunk of AIG.
Back in 2008, the government agreed to help the giant insurer get back on its feet with a $180 billion lifeline. AIG has been slowly working toward paying back that loan.
But declining profits, and a recent drop in share price make that a much tougher task.
If the government is to be made whole, AIG will have to find a way to boost its share price. Shares now sit well below $28.72 -- the breakeven point for Treasury's investment.
Separately, AIG announced Thursday that its board of directors had authorized a $1 billion share buyback, a sign the company views its stock as undervalued.
AIG CEO Robert Benmosche attributed the loss to a tough business environment.
"AIG continues to navigate a challenging global economic environment, and our results for the quarter were adversely affected by equity market declines, widening credit spreads, and declining interest rates, as well as property catastrophe losses," Benmosche said in a statement.
The company's bottom line suffered from a $1.5 billion impairment charge in its aircraft leasing division, and AIG was hit by the declining value of its stake in Asian insurer AIA.
Last quarter, the company reported net income of $1.8 billion -- a rare profit.