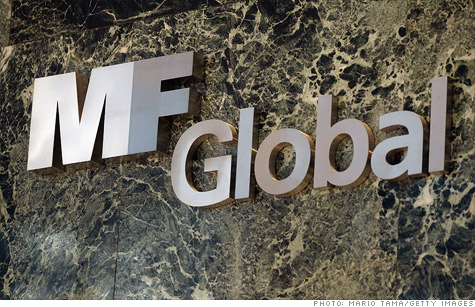 Markets operator CME Group said a week before the MF Global bankruptcy clients' funds were there, but on Monday they were gone.
NEW YORK (CNNMoney) -- The $633 million that allegedly disappeared from customers' accounts at MF Global seems to have vanished just days before the company folded, according to the operator of the nation's major commodities and futures exchanges.
CME Group (CME) said that its audit of MF Global's accounts, completed in the week before it filed for bankruptcy, showed the money was there -- one week later, it was gone. (MF Global: Sorting through the debacle.)
"With respect to the apparent shortfall in customer segregated funds held by MF Global...it appears that any transfer of such funds occurred following the completion of CME audit ... and in violation of [Commodities Futures Trading Commission Regulations] and CME rules," CME said Thursday.
The CFTC, the federal regulator overseeing MF Global, says that out of the $5.4 billion that was supposed to be in MF Global's customer accounts, $633 million is missing.
The FBI and federal prosecutors are investigating the situation, according to sources close to the probe.
"It now appears that the firm made subsequent transfers of customer segregated funds in a manner that may have been designed to avoid detection insofar as MF Global did not disclose or report such transfers to the CFTC or CME until early morning on Monday, October 31, 2011," said CME.
The discrepancy in MF Global's customer accounts appears to have been the final blow, killing a tentative deal by MF Global CEO Jon Corzine to sell the firm to Interactive Brokers Group (IBKR).
MF Global (MFGLQ), which was a significant player in the commodities and futures markets, was forced into bankruptcy less than a week after it disclosed $6.3 billion in exposure to troubled sovereign debt from weak European countries.
MF Global did not immediately respond to a call seeking comment on CME's statement Thursday afternoon.