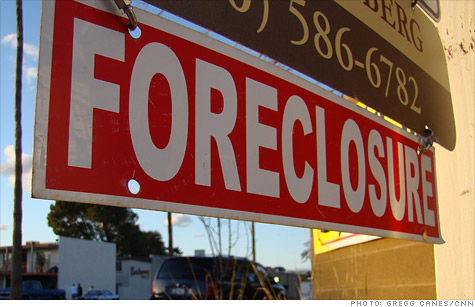 NEW YORK (CNNMoney) -- The number of foreclosures climbed in October, as mortgage lenders started to work through the paperwork problems that had delayed new filings for much of the last year.
Foreclosure filings were reported on 230,678 properties nationwide in October, a 7% increase from September, reported RealtyTrac, an online marketplace for foreclosed properties. Despite the increase, filings were still 31% below year-earlier levels, though.
RealtyTrac said one in every 563 U.S. homes had either a default notice, a scheduled auction or a bank repossession filing during the month.
"The October foreclosure numbers continue to show strong signs that foreclosure activity is coming out of the rain delay we've been in for the past year as lenders corrected foreclosure paperwork and processing problems," said James Saccacio, RealtyTrac's CEO.
A year ago, several major banks -- including Ally, Bank of America (BAC, Fortune 500), and JPMorgan Chase (JPM, Fortune 500) -- acknowledged problems with paperwork they were using to file foreclosure actions against delinquent homeowners. They announced various changes in practices and temporary moratoriums in new filings while they worked through the problems.
The states with highest foreclosure rates during the month were Nevada, California, Arizona, Florida and Michigan. Combined, these states accounted for 53% of the national total.
Las Vegas finally gave up its dubious title as the foreclosure champion, after leading all other metropolitan areas in the rate of new filings over the previous 22 months.
New foreclosure filings in Vegas plunged 36% compared to September, caused primarily by an 80% drop in new default notices. The retreat in foreclosures took it down to fifth place nationwide, and turned Stockton, Calif., into the new foreclosure epicenter.
Still the improvement in the Las Vegas real estate market wasn't enough to topple Nevada from its status as the state with the highest foreclosure rate. Its pace of one filing for every 180 homes kept it ahead of No. 2 California for the 58th straight month.
The best hopes for stopping foreclosures is an improvement in the overall economy, especially the battered real estate and labor markets. But with so many foreclosed homes weighing on the market, and with unemployment still at 9% and consumer confidence low, even mortgage rates near record lows aren't enough to fix the problems caused by the bursting of the housing bubble.