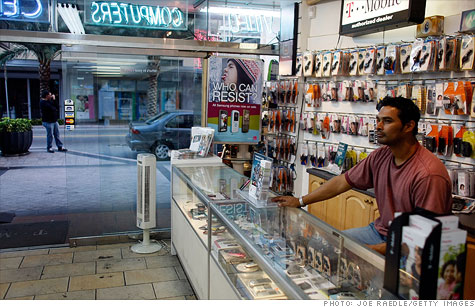 Salesman Charlie Davidson waits for customers to walk in to his electronics store in Miami, Fla.
NEW YORK (CNNMoney) -- Americans are now as pessimistic about the U.S. economy as they were in the middle of the Great Recession.
A key reading on consumer confidence plunged in August, to its lowest level since April 2009. The Conference Board, a New York-based business research group, said its Consumer Confidence Index for August fell to 44.5, down from 59.2 in July.
The gloomy outlook came as Congress allowed its debt ceiling debates to drag on until nearly the last minute and Standard & Poor's downgraded the U.S. credit rating earlier in the month. At the same time, consumers were also being weighed down by 9.1% unemployment, a roller-coaster month for stocks and a still-distressed real estate market.
According to the latest index, consumers grew more pessimistic not only about the present-day economy, but also about their future prospects.
The so-called Expectations Index took a 23-point dive, falling to 51.9 from 74.9 in July. It marked the largest point drop since the Great Recession's heyday.
About 49% of consumers said jobs were "hard to get." Only 11.8% said they expect business conditions to improve over the next six months, and 24.6% said they expect conditions to worsen.
The Consumer Confidence numbers are based on a survey of 5,000 U.S. households and are closely watched because consumer spending makes up 70% of the nation's economic activity.
The weak report comes just a day after government data showed consumer spending picked up 0.8% in July. Economists called that reading an encouraging sign for the economy, but they were wary that the debt ceiling debates, S&P downgrade, choppy stocks and Hurricane Irene could cause consumers to cut back in August.
"The darkening outlook by U.S. consumers is very worrying, despite some of the better news lately," said Jennifer Lee, senior economist with BMO Capital Markets in a note to investors. "We will have to see if this is a one-month blip."