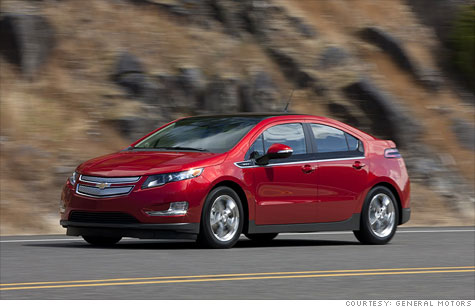 A Chevrolet Volt caught fire 3 weeks after a crash test, prompted a federal investigation.
NEW YORK (CNNMoney) -- Federal safety regulators are investigating the safety of lithium-ion batteries after a fire started in the battery pack of a Chevrolet Volt three weeks after the vehicle went through a crash test.
The crash test was performed by the National Highway Traffic Safety Administration (NHTSA), and the Volt was sitting in a parking lot at the test facility when it caught fire, according to General Motors.
NHTSA says it has investigated an incident and has concluded that, "the crash test damaged the Volt's lithium ion battery and that the damage led to a vehicle fire that took several weeks to develop after the test was completed."
That incident, the agency says, "is the only case of a battery-related fire in a crash or crash test of vehicles powered by lithium-ion batteries." It went on to say that it will conduct additional testing of the Volt's lithium-ion batteries.
The Volt easily passed the the safety administration's test for protecting vehicle occupants, earnings a 5-star rating for overall safety, side impact and rollover risk and four stars for frontal crash protection.
"First and foremost, I want to make this very clear: the Volt is a safe car," said Jim Federico, GM chief engineer for electric vehicles in a prepared statement. "We are working cooperatively with NHTSA as it completes its investigation."
GM spokesman Greg Martin said the automaker, working with the safety agency since the fire, has been unable to duplicate the incident. He said GM (GM, Fortune 500) subjected the Volt battery pack to more than 300,000 safety tests.
"Safety protocols for electric vehicles are clearly an industry concern," said Federico. "At GM, we have safety protocols to depower the battery of an electric vehicle after a significant crash."
Volt and Nissan (NSANF)'s Leaf, which both went on sale in 2011, were the first mass market lithium-ion powered electric cars in the United States, although the Volt also has a gasoline motor that extends its range. Nissan has sold just over 8,000 Leafs, while Chevy has sold just over 5,000 Volts.
Besides GM and Nissan, high-end performance car maker Tesla (TSLA) uses the lithium-ion batteries, and Ford Motor (F, Fortune 500) is about to come out with an electric Focus using the high-capacity battery.
The National Highway Traffic Safety Administration says it's "working with all vehicle manufacturers to ensure they have the appropriate post-crash protocols" and emphasized there battery powered vehicles were not more vulnerable than gas powered vehicles.
"Let us be clear: NHTSA does not believe electric vehicles are at a greater risk of fire than other vehicles."