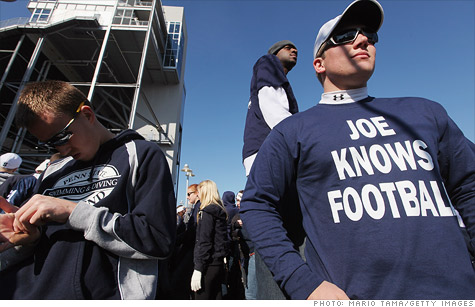 Cars.com is pulling its ads from Penn State football games in the wake of the sexual abuse scandal that has cost coach Joe Paterno his job.
NEW YORK (CNNMoney) -- The sexual abuse scandal at Penn State has prompted at least one advertiser to pull out of broadcasts featuring the now-tarnished football program.
A spokeswoman for the auto sales website Cars.com said in an email Monday that the company had pulled its ads from ESPN's broadcast of the Penn State-Nebraska game this past weekend as well as the upcoming game with Ohio State.
"As a proud, longtime supporter of ESPN College Football, it's important to us that we're building our brand in a way that celebrates the sport, its fans and the dedication of its student athletes," the spokeswoman said, adding that Cars.com had worked with ESPN to have the ads in question moved to other broadcasts.
"ESPN is a valuable media partner, and the overall scope of our investment with the network, including our support of other programming and advertising on ESPN's digital assets, hasn't changed."
Penn State did not return a request for comment on Monday, while an ESPN spokeswoman said the sports channel "does not comment on individual advertiser activities."
A spokesman for Nike (NKE, Fortune 500) said in an email that the company's sponsor relationship with Penn State "remains unchanged."
"We are deeply disturbed by the claims brought forth in the indictments," the spokesman said. "We will continue to monitor the situation closely."
Other corporate sponsors of the university's athletics program, including Sherwin-Williams (SHW, Fortune 500), Comcast (CMCSA, Fortune 500) and AT&T (T, Fortune 500), did not respond to requests for comment.
Former Penn State defensive coordinator Jerry Sandusky faces child rape charges in a case that has rocked the university and prompted the firings last week of legendary head coach Joe Paterno and university president Graham Spanier.
On Monday, a listing of several dozen corporate sponsors on the Penn State athletics website that was available as of last week had been replaced with a message saying only that the athletics program "would like to thank its Corporate Partners for their support".
Penn State's revenue of $72.7 million from football last season was the fifth highest of any college program in the country, according to a CNNMoney analysis of figures reported by each school to the Department of Education.
When comparing revenue to total expenses, Penn State football's profit of $53.2 million was second only to the University of Texas's $71.2 million.
Penn State reported an additional $24.1 million in athletic revenue not specifically assigned to one team or sport. Much of that comes from general merchandise sales and sponsorships, driven in part by the popularity of football.