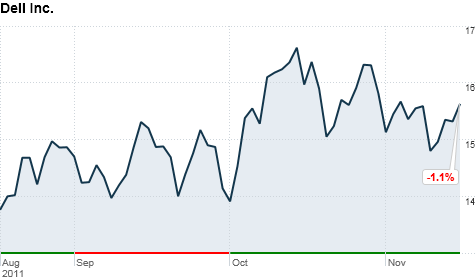 NEW YORK (CNNMoney) -- It was a mix of good profits and bad sales for Dell last quarter, but investors mainly focused on the bad, sending shares down in after-hours trading on Tuesday.
The world's third-largest personal computer manufacturer reported third-quarter profit that exceeded Wall Street's expectations, and the company said that its full-year profit will surpass its own forecasts.
Yet sales missed estimates by the slightest of margins, and Dell said that a global hard drive shortage will hurt sales going forward
As a result, shares of Dell (DELL, Fortune 500) slipped 2% after the market's close.
The company did make some headway in its transition from a PC maker to a services-oriented technology provider a la Hewlett-Packard (HPQ, Fortune 500), Cisco (CSCO, Fortune 500) and IBM (IBM, Fortune 500). Services revenue rose 10% in the quarter from a year ago and the division now accounts for about 14% of total sales.
A sales increase of 4% for PCs and servers to big businesses helped the company weather a 6% decline in its consumer business.
"Our results this quarter and over the past year reflect a new Dell, one focused on providing our customers productivity-enhancing solutions either developed organically or acquired," said Michael Dell, the company's CEO, in a prepared statement.
Dell noted that the company is investing in research and development at a billion-dollar-a-year pace. That has helped Dell become much more profitable, lifting earnings per share 86% over the past 12-month period.
For the quarter, the Round Rock, Texas.-based company reported net income of $893 million, up 9% from a year earlier. Excluding one-time charges, Dell earned $983 million, or 54 cents per share.
Analysts polled by Thomson Reuters, who typically exclude one-time items from their estimates, forecasted earnings of 47 cents per share.
Due to the better-than-expected quarter, the company said it is on track to exceed its operating income growth forecast of 17% to 23% for the year.
But sales fell incrementally to $15.4 billion, missing analysts' forecasts of about $15.65 billion.
Because of the worsening economic situation and the Thailand floods that have severely impacted production and worldwide availability of hard drives, Dell said it believes it will deliver sales growth "on the lower end" of its 1% to 5% forecast for the full year.