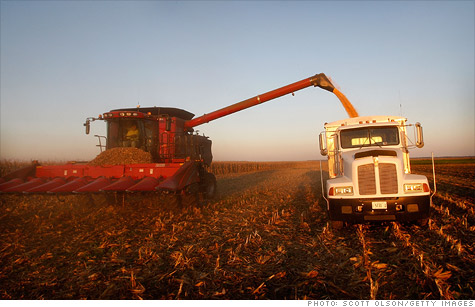 Historic increases in farmland prices seen in parts of the Midwest.
NEW YORK (CNNMoney) -- Agricultural land value is soaring in the Midwest, with parts of the region surging 25% from last year, according to two recent Federal Reserve surveys. The jump is the highest increase in three decades.
Record farmland prices are also being reported in the northern Plains.
Surveys released by the Kansas City and Chicago Federal Reserves Tuesday find that despite a struggling U.S. housing market, agricultural land in their districts is booming. And the run-up in prices may have yet to peak, they said.
"District farmland values surged to a record high in the third quarter," the Kansas City survey said. "Cropland values rose more than 25 percent over the past year, and ranchland values increased 14 percent."
In particular, Nebraska experienced exceptionally strong gains in the Kansas City District due to bumper crops -- especially productive seasons for certain crops -- reporting a roughly 40% rise in farmland prices from one year ago.
The surveys indicate that good credit conditions, successful harvests, and elevated levels of farming income helped to contribute to this large surge in an already strong agricultural property market.
According to the Chicago Fed, farmland values in its district had their largest increase since 1977, jumping 7% from the previous quarter.
Iowa farmland prices led the Chicago Fed's district, jumping 31% from last year's 3rd quarter.
However, not every state in the region had such historic success.
The southern Plains, Oklahoma in particular, saw more modest increases -- mainly due to devastating droughts, affecting yields from crops and livestock.