Bet the farm: Cropland prices soar 20%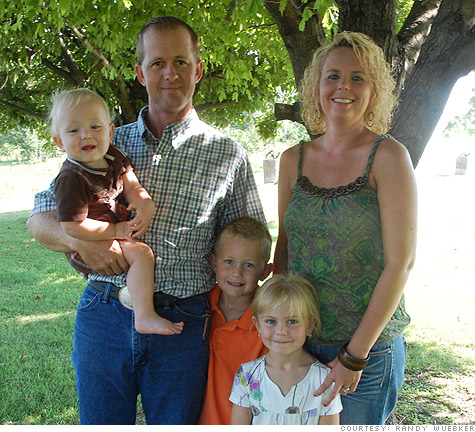 NEW YORK (CNNMoney) -- The Corn Belt was the real estate place to be in 2010.
Land prices in the states centered on Iowa grew at a 15% to 20% clip, annualized, over the last six months of the year, according to Creighton University economist Ernie Goss.
Prices were sent soaring by higher commodity prices, as crop failures in some food-exporting countries boosted the demand for U.S. grains and soybeans. For example, corn rose to $240 a ton in December compared with $166 just 12 months earlier.
"Commodities have been doing quite well," said Goss. "Income is up and everyone wants to salt away some of that cash. They prefer to put it in farmland."
Dave Miller just bought an 80-acre farm to add to his two existing properties in Lucas County, Iowa, which includes more than 300 acres of tillable land. "A lot of farmers buy land in good times," he said. "It becomes their retirement portfolio."
When he sees land going for below-market prices, Miller grabs it if he can. How does he know it's a good deal?
Because cropland prices in Iowa are easy to figure using the "corn suitability rating," which measures soil productivity from 5 (worst) to 100 (best).
"Typically, in Iowa, you pay between $80 and $100 per corn suitability point," he said. "The farm I just bought had a rating of 40."
That means between $3,200 and $4,000 per acre for the property he purchased, or nearly $320,000 -- a lot of money in a state where the median income is $48,000.
But Miller paid the bargain price of $2,100 acre. "That's why I bought it," he said.
In central Iowa, there are farms that score in the 90s because of easy-to-work, flat topography and deep, rich soils. That land can cost more than $10,000 an acre, making the farmers who own that land among the wealthiest in the state. On paper, at least. They'd have to sell the farm and cash out to reap the rewards.
Most established farmers don't want to do that, at least until they're ready to retire. They may be getting rich right now but they don't usually profit from increasing land values unless they sell it.
"Farmers don't like to see this," said Goss. "They're not selling, but their property taxes go up."
It's especially hard on the young. "If I'm a young guy starting out, I'd be worried about the rapidly rising farm values," said Miller.
Randy Wuebker, a 32-year-old father of three from southwest Iowa, is trying to put together a good-sized spread, not just for himself but to pass on to his kids.
"I have two boys and a girl, and I'd like them all to be farmers," he said. "But it's hard. Land is very expensive. We're always looking but we can't justify buying, not with what land is bringing at this time."
With the average price per acre in Iowa at more than $5,000 and typical farms upward of 350 acres, the cropland alone may be worth $1.75 million. That's a huge investment for a young entrepreneurial agronomist looking to, well, grow.
Wuebker was lucky in that, more than 10 years ago, with help from his dad, he contracted with a retiring farmer to rent 240-acres, work it and eventually purchase it at $1,800 an acre.
"At the time, I thought it was a lot of money," he said.
No more. It was appraised at $2,600 an acre in 2006, and Wuebker figures it's worth more than $4,000 today, about four times its value when he first began.
Most farmers think long-term trends will keep values high, although the rate of appreciation should slow. One reason for their optimism is the blossoming alternative-energy industry.
Many farmers already sell some corn for ethanol production and others rent space to power companies for wind turbines.
Wuebker, for example, sells his entire crop to an ethanol plant. With those profits in hand, he keeps going to land sales, intending to make offers. The prices keep starting out higher than he would like to bid -- and then go higher still. So he's holding off for now.
"I don't expect prices to drop dramatically, but I do expect a setback in the near future," he said.