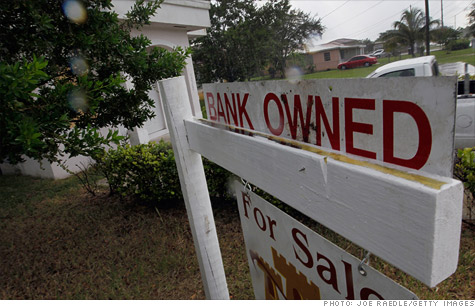 Steady decline in foreclosure filings comes to end with jump in third quarter, according to the Mortgage Bankers Association. But that's despite a drop in delinquencies.
NEW YORK (CNNMoney) -- Home foreclosure filings rose in the third quarter, as recent declines in the rate of new foreclosures came to an end, according to an industry trade group.
The Mortgage Bankers Association reported that foreclosures started for 1.08% of outstanding home loans, up from 0.96% in the second quarter.
The jump in foreclosures came even as the rate of homeowners who are delinquent on their mortgages fell. Those only 30 days late making payments improved to 3.19%, the lowest level since the second quarter of 2007. And those 60 and 90 days or more late in making payments also declined, bringing the percentage of delinquent loans not in foreclosure to under 8%.
But the MBA said increased foreclosure filings by several big lenders led to the upturn in homes in foreclosure.
"While the delinquency picture changed for the better in the third quarter, the foreclosure data indicated that we are not out of the woods yet," said Michael Fratantoni, MBA's vice president of research and economics.
Fratantoni said he couldn't speculate on what caused the turn by those major servicers. But other experts said some of the increase could be due to lenders working through problems with their loan documentation that had put a brake on some foreclosures.
The recent foreclosure increases are a sign that filings are "coming out of the rain delay we've been in for the past year as lenders corrected foreclosure paperwork and processing problems," said James Saccacio, CEO of RealtyTrac, a private service that also tracks foreclosure activity.
A year ago, several major banks and mortgage servicers -- including Ally, Bank of America (BAC, Fortune 500), and JPMorgan Chase (JPM, Fortune 500) -- acknowledged problems with paperwork they were using to file foreclosure actions against delinquent homeowners. They announced various changes in practices and temporary moratoriums in new filings while they worked through the problems.
But Fratantoni said the moratoriums tended to slow foreclosure sales being completed more than it slowed new filings.
It's also possible that some lenders are seeing some improvement in the housing market, ironically giving them greater incentive to start the foreclosure process.
For example, some experts say there have been new signs of life recently in the Las Vegas real estate market. Nevada had the highest rate of foreclosure filings in the quarter, and one of the biggest increases, as new filings hit nearly 2.5% of loans there.