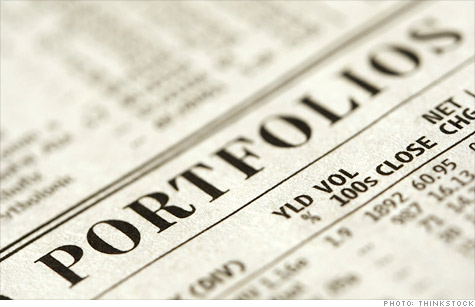 Can one fund manager's bets on financial stocks help his fund stage a comeback?
(MONEY Magazine) -- "This market is actually an exciting place to be -- it only feels lousy," jokes Chris Davis.
He ought to know. He and co-manager Kenneth Feinberg, who run the $24 billion Davis New York Venture fund (DNYVF) (and the much smaller sister portfolio Selected American Shares (SLASX), which is in the MONEY 70), have struggled since the financial crisis.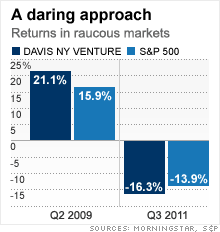 But thanks to the recent sell-off, Davis thinks some world-class businesses are selling at big discounts.
As always, though, many of their favorite stocks are financials, which may make for a bumpy ride.
A daring approach
Davis NY Venture's risk taking can lead to higher highs and lower lows.
Funds that bet on beaten-down and undervalued stocks are often regarded as conservative. But as value-oriented portfolios go, Davis NY Venture can be bold.
Sometimes this risk taking pans out -- Davis points to his decision to keep buying Phillip Morris (now Altria (MO, Fortune 500)) more than a decade ago, when lawsuits threatened to bankrupt the firm. "We made more money in that investment than any other," he said.
Other times, the managers miss the mark. Take Sino-Forest, which made headlines recently when trading was halted on reports the firm exaggerated its Chinese timber holdings. That was a small bet, but Davis hung on too long and says he is writing it off as a total loss.
Faith in financials
The fund bet big on the sector before, during and after the credit crisis.
In 2008, big stakes in banks, brokers, and insurers like AIG (AIG, Fortune 500) led to steeper than average losses.
Bets on gold, commodities finally pay off
Yet the managers aren't giving up. "Would I back up the truck and buy a financials index? No way!" Chris Davis says. But he and Feinberg sift for firms with strong risk controls. "Companies such as Wells Fargo (WFC, Fortune 500) and Progressive (PGR, Fortune 500) have better accounting and less competition than they've ever had," he says.
Bank of New York Mellon (BK, Fortune 500), which is being sued by the New York attorney general for allegedly defrauding clients, is a much riskier bet. But this is "an entrenched business that doesn't have a lot of credit exposure, and its problems are manageable," Davis says.
A trustworthy record
NY Venture's 10-year record makes up for its difficult recent past.
Because Davis and Feinberg are apt to dig in their heels, their fund is bound to lag at times, as it did in 2001, when it held on to American Express (AXP, Fortune 500) as the company was roiled by junk bond losses. But the co-managers went on to trounce the S&P 500 for several years.
Confused about investing? Ask The Help Desk
After trailing the market in 2010 and 2011, Davis NY Venture may be due for a similar rebound.
"It is poised to take advantage of market conditions," says Ohio planner Connie Stone, who invests with the no-load Selected American Shares. Dan Culloton, associate director of fund analysis at Morningstar, says the fund remains a top analyst pick. "There is risk here," he says, "but also significant opportunity."