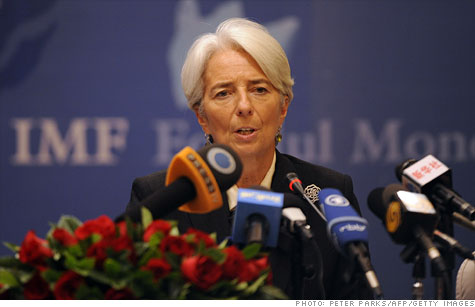 The International Monetary Fund, led by Christine Lagarde, has loosened restrictions on lending to try and ameloriate the debt crisis.
NEW YORK (CNNMoney) -- The International Monetary Fund approved a number of changes to streamline its emergency lending process and deal with the European debt crisis.
The goal: allow the IMF to provide cash in tough times, especially to otherwise healthy countries caught up in a credit crunch -- countries the IMF calls "crisis-bystanders."
The IMF's credit line system, for example, could be used more broadly, providing short-term loans or insurance "to address the needs of crisis bystanders during times of heightened regional or global stress and break the chains of contagion."
Some of the key elements include changes to the "precautionary and liquidity line," which requires a country to have a solid track record of implementing sound economic policies to qualify.
That credit line can now be used as a "liquidity window" that would allow borrowers to pay off short-term loans over six months. Under certain circumstances, borrowers may qualify for longer payment terms of up to two years.
"The reforms enhance the fund's ability to provide financing for crisis prevention and resolution," said IMF managing director Christine Lagarde.
The reforms also expand the IMF's rapid financing instrument, which is meant to aid members in urgent need of assistance.
The rapid financing instrument is being broadened beyond helping those members stricken by natural disaster and or in the aftermath of violent conflict. But borrowers must first prove to the IMF that they have a solid plan in place to address whatever difficulty required the emergency lending.
"This is another step toward creating an effective global financial safety net to deal with increased global interconnectedness," said Lagarde.