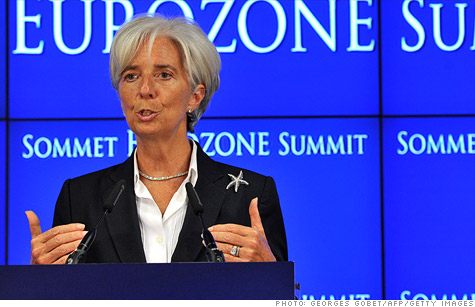 Christine Lagarde, director of the IMF, says debt is crushing advanced nations.
WASHINGTON (CNNMoney) -- International Monetary Fund Managing Director Christine Lagarde sounded the alarm Thursday that global economies are in a "dangerous phase," in her first major speech in Washington since taking over as fund chief.
"Exactly three years after the collapse of Lehman Brothers, the economic skies look troubled and turbulent as global activity slows and downside risks increase," Lagarde said. "We have entered a dangerous new phase of the crisis. Without collective resolve, the confidence -- that the world so badly needs -- will not return."
Lagarde described how advanced nations are crushed by debt, with bad investments on the balance sheets of European banks and U.S. households in terms of mortgages.
She said that weak balance sheets and weak growth are "feeding negatively on each other," fueling a global crisis in confidence, which is responsible for curbing demand, investment and job creation.
"This vicious cycle is gaining momentum and, frankly, it has been exacerbated by policy indecision and political dysfunction," Lagarde said.
Lagarde is the former finance minister of France. She took over management of the IMF from Dominique Strauss-Kahn, who resigned after facing sexual assault charges in New York that were dismissed last month.
There's a lot at stake for the IMF and Lagarde, who is the first woman to run the global financial institution. The IMF faced criticism at the height of the financial crisis for being complacent in the years leading up to it. It failed to persuade the United States and European nations to crack down on rampant speculation and leverage.
But Largarde's speech aims to be bold, warning of certain doom if nations don't work together to clear balance sheets, reform their financial systems and rebalance global demand.
"Without collective, bold, action, there is a real risk that the major economies slip back instead of moving forward," she said.
She also took a swipe at U.S. politicans who delay tough economic decisions, such as tax hikes, until the next election, saying "they have to extend their agenda to beyond the next election."
Lagarde also highlighted an-often overlooked problem that she says is feeding into global economic problems: Social tensions.
Lagarde said such tensions have been brewing from long-term, entrenched unemployment -- especially among the young -- as well as perceptions that Wall Street was given priority over Main Street in the attempt at economic recovery.
"These issues add more fuel to the confidence crisis," she added.
As for solutions, she said the first thing nations need to do is cut deficits, but to do so in a way that doesn't threaten recoveries.
Lagarde took U.S. policymakers to task, suggesting they haven't done enough to deal with the mortgage crisis to help lift households from mountains of debt.
"It is important to relieve overburdened households through actions like more aggressive principal reduction programs, or helping homeowners take advantage of low interest rates," she said.
Other solutions lie in reforms to financial sectors. Lagarde praised moves to force banks to hold bigger capital cushions. But she said nations still have too many differences when it comes to dealing with bank "supervision, cross-border resolution, too-important-to-fail, and shadow banking systems."
She said another important solution is global rebalancing, with emerging markets doing their part to contribute to "providing the demand needed to power the global recovery." She stopped short of pointing fingers at any one nation, but China has faced such criticism over the years.
"This lack of sufficient rebalancing hurts everyone," she said. "If the advanced economies succumb to recession, the emerging markets will not escape. Nobody will. Rebalancing is in the global interest, but it is also in the national interest."