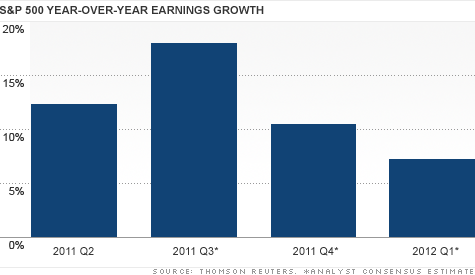 Companies are on track to deliver robust earnings growth for the third quarter, but executives and Wall Street analysts are tamping down expectations for future quarters.
NEW YORK (CNNMoney) -- Corporate earnings have enjoyed double-digit growth for eight straight quarters, but that euphoric run may be coming to an end, thanks to Europe's worsening debt crisis and a tepid U.S. economy.
In fact, for every one company in the S&P 500 that has issued a positive outlook for the fourth quarter, 3.5 have been pessimistic, according to earnings tracker Thomson Reuters.
That's the highest since the second quarter of 2001, and well above the historic average of 2.3.
"Companies always tend to under promise, but we are hearing a more genuine concern [and] Europe is a big factor," said Greg Harrison, corporate earnings research analyst at Thomson Reuters.
It's been about 18 months since Europe's debt problems intensified into a full-blown crisis. Greece is still not out of the woods, and worries about a deepening contagion into larger eurozone economies, such as Italy, have convinced economists that Europe is on the brink of a recession.
The bleak outlook has also prompted corporate chiefs from across the nation to turn even more cautious.
In an interview with CNNMoney earlier this month, Cisco (CSCO, Fortune 500) CEO John Chambers said that he is "very concerned" about how Europe's debt crisis will weigh on the company's performance in the fourth quarter.
He said he expects Cisco's revenue growth in the region to drop to the "mid-single digits" in the fourth quarter, compared with 13% in the prior quarter.
Europe's deepening crisis has also, unsurprisingly, put pressure on the euro, helping the U.S. dollar rally more than 6% over the past three months alone.
And that's worrisome, say executives, because most U.S. companies that sell their products outside the United States convert revenue from foreign currencies back into U.S. dollars in their quarterly financial results.
When the dollar is stronger than the foreign currencies, the outcome of the conversion process eats into corporate revenue dollars.
That's why Fossil (FOSL), which generates more than 50% of its revenue from outside of the United States, trimmed its fourth-quarter earnings forecast. Other companies, including Royal Caribbean Cruises (RCL)., Compuware (CPWR), and Tupperware Brands (TUP), also cited the dollar's strength as a reason for weaker outlooks.
As companies get bearish, Wall Street analysts are also lowering their bars.
In early October, analysts were expecting fourth-quarter profits for S&P 500 companies to grow by almost 15% from a year earlier. But now, that estimate stands around 10%, according to S&P Capital IQ.
And the downward trend is similar for 2012 forecasts. Analysts have reduced estimates from nearly 12% year-over-year growth to less than 10%.
Even with all that pessimism, any growth would make for record profits, so "it's splitting hairs," notes Alec Young, global equity strategist at S&P Capital IQ.
But moving forward, "Europe's sovereign debt crisis poses the biggest threat to earnings," he warned.