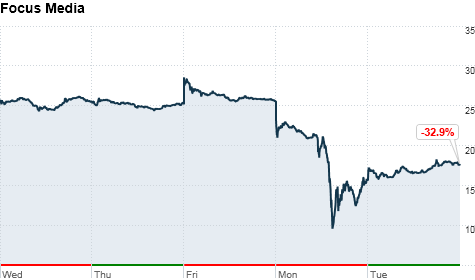 NEW YORK (CNNMoney) -- Shares of Chinese digital marketing firm Focus Media regained only a fraction of the value they lost, after the company responded to allegations of fraud and questionable insider trading made Monday by short-selling research firm Muddy Waters.
Muddy Waters had initiated coverage of Focus Media Monday with a "strong sell" recommendation. Shares of the Shanghai-based company plunged as much as 65.5% before recapturing some of that loss to close down 39% on the day.
It essentially had no public response to the Muddy Waters allegations until an 8 a.m. ET press release and an investors conference call Tuesday. In the statement it said "the Company denies the allegations entirely."
Shares of Focus Media (FMCN) climbed $2.28, or 14.8%, Tuesday.
Focus Media said Muddy Waters' allegations that the number of LCD television screens in its advertising network was overstated by about 50% are "unfounded and misunderstand the company's business." It gave new details about the 178,382 screens it operates.
Muddy Waters did not have an immediate reaction to that new statement from Focus, saying that it expected a detailed analysis next week. Its original report said that Focus Media has less than 120,000 screens, which is equal to the number of large screens that Focus Media detailed in Tuesday's response.
Muddy Waters also had charged that the Focus "is significantly and deliberately overpaying for acquisitions," possibly to hide losses.
Focus Media defended its acquisition strategy, saying that asset sales and write-down in value of different units was proper because "starting in 2009, the Company returned to its core outdoor digital advertising business after realizing that certain acquisitions -- particularly in non-core areas -- were not producing the results it had expected."
It also denied Muddy Waters' charge that some of the trades and transactions made by Focus Media executives were improper.
Muddy Waters' director of research Carson Block did answer that response, saying Tuesday that "Focus Media confirmed today that an independent third-party valuation firm appraised its Allyes subsidiary in June 2010 at $38 million. Insiders, including the CEO Jason Jiang, received shares in the company at that valuation. A few months later, Allyes was sold to Silver Lake Partners for $181 million and Mr. Jiang pocketed $22 million. It doesn't take an investment wizard to figure out there's something not right about that."