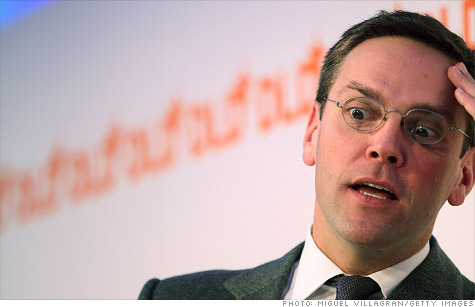 James Murdoch has been criticized for his handling of the phone hacking scandal at News Corp.
NEW YORK (CNNMoney) -- James Murdoch has resigned from the boards of a pair of companies that publish News Corp's UK newspaper titles.
The news comes amid questions about James's handling of the phone hacking scandal that has engulfed the company, and follows the arrest of former News International CEO Rebekah Brooks in July.
News International, a News Corp. subsidiary, said in a statement Wednesday that Murdoch resigned in September from the boards of News Group Newspapers, which publishes The Sun, and Times Newspapers Ltd, which publishes The Times of London.
He remains as chairman of News International and as a director of Times Newspapers' holding company. He is also deputy chief operating officer of News Corp. (NWSA, Fortune 500), which his father Rupert heads.
News Group Newspapers published the News of the World tabloid before being forced to shutter it in July after allegations that employees of the paper had hacked into the voicemails of thousands of people, including a missing teenager who was later found murdered. There are also allegations that News of the World bribed police for information.
Rupert and James Murdoch were called to testify on the issue in July before the British Parliament, where they denied direct responsibility for the hacking.
At News Corp's annual meeting last month, shareholders voiced their frustration over James's handling of the scandal, with 35% voting against his re-election to the company's board. The figure was especially striking given that the Murdochs control about 40% of News Corp's voting shares.