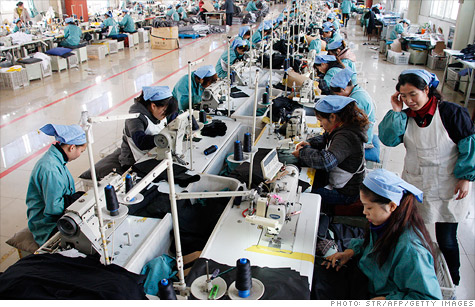 HSBC's flash reading on China's PMI for manufacturing dips to the lowest level in 32 months.
NEW YORK (CNNMoney) -- Chinese manufacturing has hit the brakes, slowing to a 32-month low in November and raising concerns about a global economic slowdown, according to a preliminary report issued Wednesday.
China's Purchasing Managers' Index for manufacturing slipped to 48, according to the report issued by the banking company HSBC. It was down 3 points from the October reading of 51.
Any reading above 50 indicates growth in the sector, while any reading below 50 indicates a contraction in activity.
Chinese factories have been driving the nation's economy, so the slowdown could have global ramifications. China's gross domestic product grew at an annual pace of 9.1% during the third quarter, down from 9.5% growth in the second quarter and 9.7% growth in the first three months of the year.
"The monthly (PMI) reading has been steadily improving since July with prints of 49.3, 49.9, 49.9, 51.0 before today," said Deutsche Bank analysts Jim Reid and Colin Tan in a written commentary. "The combination of this Chinese PMI report and weaker Japanese exports seen on Monday will raise some concerns about a euro-led export slowdown in Asia."
Reid and Tan said that the report was partly responsible for Wednesday's selloff in Asian markets. The Hang Seng (HSI) in Hong Kong closed down 2.1%, while the Shanghai Composite (SHCOMP) fell 0.7%. Tokyo's market was closed for a holiday.
HSBC released its so-called "flash" reading a week before the Chinese government's official release, basing its estimate on between 85% and 90% of responses to the manufacturers' survey.