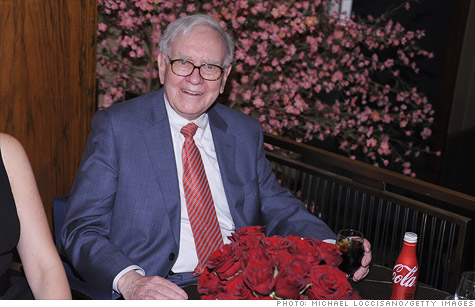 Investment guru Warren Buffett is buying his hometown newspaper.
NEW YORK (CNNMoney) -- The Oracle of Omaha is making an old-media buy.
Warren Buffett's Berkshire Hathaway (BRKA, Fortune 500) announced plans on Wednesday to purchase the Omaha World-Herald Company, which owns the Omaha World-Herald and several other newspapers in Nebraska and Iowa.

In 2009, Buffett reportedly told shareholders at Berkshire's annual meeting that the firm would not buy most newspapers in the U.S. "at any price," and that the industry faces "the possibility of nearly unending losses." On Wednesday, however, he struck an optimistic tone in discussing his latest asset.
"The World-Herald delivers solid profits and is one of the best-run newspapers in America," Buffett said in a statement, adding that he was pleased to continue the tradition of local ownership at the World-Herald and that its editorial independence would continue.
No purchase price was disclosed, though the companies said the transaction would likely be completed in late December. Shares of Berkshire Hathaway were up 4% in trading Wednesday.
Bufffett's firm already owns the Buffalo News and also has 21% of publicly traded shares in the Washington Post Company. He served on the Washington Post board on and off for 37 years before stepping down in May.