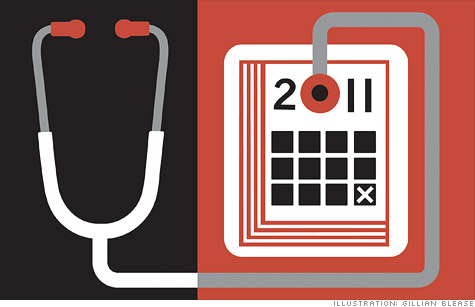 (MONEY Magazine) -- Don't forget to empty out your flexible spending account and get your medical checkups before the new year. You'll cut next year's health care costs.
Empty your FSA
Flexible spending accounts often allow you to put up to $5,000 pretax a year aside to cover medical care. About half of companies require you to use up the funds by Dec. 31. (The rest give you a grace period until March 15, according to WageWorks.)
So get new glasses, stock up on contact lens solution or get your teeth cleaned.
Starting this year, over-the-counter meds, such as allergy or heartburn relief pills, qualify for FSA reimbursement only if you have a prescription from your doctor.
Get yourself checked out
As part of the 2010 health reform law, insurers must pick up the full tab on in-network preventive care services, which might include a yearly mammogram, colonoscopy, flu shot, or osteoporosis screening. So book your appointments now.
Not sure what you qualify for?
You can get a list of the preventive services your insurer will cover for you based on your age, gender, health status and family history at healthcare.gov.
Take advantage of a spent deductible
If you or a member of your family has already hit your insurance deductible, try to cram in the visits before Jan. 1 to take care of that aching foot, dry skin patch, or other nagging malady you've been ignoring.
Send The Help Desk your health insurance questions.
Do it now and you'll owe only the co-insurance or co-pay; wait until the new year, and you'll have to cough up another deductible (which most people don't hit every year) before your insurance coverage kicks in.
Besides, a small ache or pain might become a bigger problem by then.
Boost your medical tax break
Has your family racked up significant health care bills this year? Total up the tab. Medical expenses above a certain amount (usually 7.5% of your adjusted gross income) are generally deductible, assuming you itemize.
If you've crossed the threshold, or are close to it, try to shift upcoming health expenses, such as dental work or new prescription sunglasses, into this year, says Barbara Weltman, contributing editor to J.K. Lasser's "Your Income Tax."
Don't miss incentives
Toward the end of the year many large employers offer rewards such as cash, gift cards or a premium discount to employees who agree to have their blood pressure and cholesterol checked, and fill out a health risk assessment.
Often you need to act within six weeks of the offer to grab the reward, says Jay Savan of benefit consultant Towers Watson. So fill the forms out now, and set yourself up for a richer New Year.