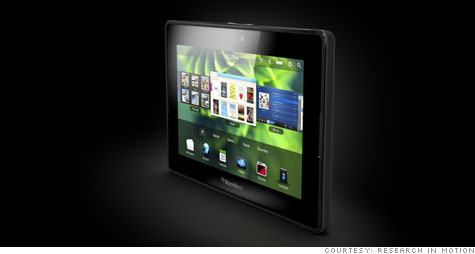 Research In Motion's BlackBerry PlayBook hasn't sold as well as the company had hoped.
NEW YORK (CNNMoney) -- The bad news just keeps piling up for BlackBerry maker Research In Motion, as the company said Friday that worse-than-expected sales of its PlayBook tablet will cause the company to fall short of its own financial estimates for the latest quarter.
Shares fell 9% in morning trading.
The Canadian smartphone and tablet maker said its inventory of PlayBooks remains too high, and the company will have to increase its already "aggressive" promotions to get the tablets off store shelves and into customers' hands.
RIM (RIMM) said it's having trouble selling the tablets because of "recent shifts in the competitive dynamics of the tablet market," which include last month's release of Amazon's (AMZN, Fortune 500) disruptive $200 Kindle Fire tablet.
The company also said that the delayed release of a much-needed software update to the PlayBook -- which will include key features like e-mail, calendar, address book and BlackBerry Messenger access -- has hurt sales.
As a result of the tablet's poor performance, RIM said it would take a $485 million charge for its fiscal third quarter, which ended last week.
The company also said that a combination of low PlayBook demand and customers buying cheaper BlackBerry smartphones would cause sales to fall short of the $5.3 billion to $5.6 billion forecast range that it had previously issued.
RIM said it no longer believes it will be able to meet its $5.25 profit target for the year. That's not a surprise: Analysts surveyed by Thomson Reuters were already forecasting that RIM would fail to meet its earnings-per-share target.
For the third quarter, RIM said it expects to meet its profit forecast, but earnings per share will fall in the low- to mid-point of its $1.20 to $1.40 range.
Making matters worse, the company also said that it suffered a $50 million hit to sales stemming from its three-day-long service outage last month -- the company's longest ever.
RIM added that it believes shipments of BlackBerry smartphones in the current quarter will fall below the 14.1 million phones the company shipped in its just-ended quarter. While RIM's third-quarter smartphones shipments were in line with the company's forecast of between 13.5 million and 14.5 million, RIM said phones were sitting on store shelves, as it sold fewer devices to end-users than it had expected.
Meanwhile, the company said it is sticking to its strategy, which it believes will pay dividends in the long run.
"RIM is committed to the BlackBerry PlayBook and believes the tablet market is still in its infancy," Mike Lazaridis, RIM's co-CEO, said in a prepared statement. "We believe the PlayBook is a compelling tablet for consumers that also offers unique security and manageability features for the enterprise."