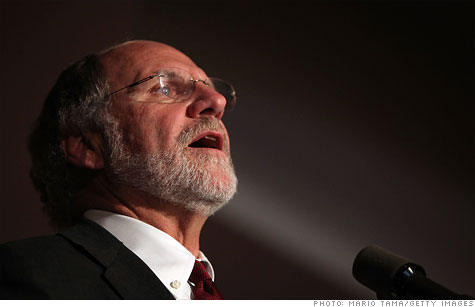 The House Agriculture Committee has voted to compel former MF Global CEO Jon Corzine to testify.
WASHINGTON (CNNMoney) -- The House Agriculture Committee voted unanimously Friday to subpoena Jon Corzine, the former CEO of bankrupt trading firm MF Global, to compel his testimony at a hearing next week.
"I assure you, the ranking member and I do not take this action lightly," said committee Chairman Frank Lucas, an Oklahoma Republican. "However, we agree that his testimony is essential to fulfill our objectives on behalf our constituents and to complete the hearing record."
MF Global, which filed for bankruptcy last month, is under federal investigation.
Corzine, former governor of New Jersey, has been called to testify at three different congressional panels this month.
The Senate Agriculture panel has called him to appear at a Dec. 13 hearing. The committee said it would vote on Tuesday whether to also issue a subpoena to Corzine.
The House Financial Services Committee has called Corzine to testify on Dec. 15. Its investigations subcommittee will vote on Wednesday on whether to subpoena him.
"For the past week, we led a good-faith effort to obtain his testimony voluntarily," subcommittee chairman Randy Neugebauer said in a statement. "Unfortunately, it has become clear that is not possible, so the subcommittee will meet to consider the issuance of a subpoena."
As for the House Agriculture Committee on Thursday, it wasn't clear immediately when the panel would actually issue a subpoena. A congressional aide said lawmakers were discussing such details now.
Stephen Goldberg, a spokesman for Corzine, declined to comment.
Corzine resigned from his position at MF Global (MFGLQ) last month. The firm was forced to file for bankruptcy in October after it disclosed $6.3 billion in exposure to troubled sovereign debt from weak European countries, sparking panic among investors.
The trustee administering the bankruptcy has said that more than $1.2 billion in customer funds at the firm may be unaccounted for, a controversy being investigated by the FBI and federal prosecutors.
Analysts believe MF Global may have improperly mixed customer funds with its own, though no one at the firm has been accused of wrongdoing.
Meanwhile, the board of the brokerage's parent company, MF Global Holdings, resigned on Friday following the appointment of a separate trustee in that case, former FBI director Louis Freeh, earlier this week.
--CNNMoney's James O'Toole and CNN's Deirdre Walsh contributed to this report.